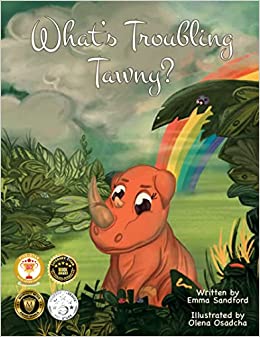 What's Troubling Tawny? by Emma Sandford and illustrated by Olena Osadcha is the second book in the Sumatran Trilogy
Tawny longs to make friends with another rhino, but her shyness holds her back. When she meets a hornbill called Tallulah, she is surprised to learn that she has a lot in common with the beautiful bird. Will Tawny find a way to overcome her shyness, and can Tallulah help her find a companion?
Oh my goodness. What's Troubling Tawny? is just lovely. Not only is it a beautifully illustrated, high quality book of the kind I've come to expect from Full Media, but the balance of text to picture means it has the kind of depth that will enable it to be read time and again because there is so much to discover.
The language is challenging enough to develop literacy but is encompassed in a context that also makes it accessible. The Sumatran setting affords lots of opportunity for educational use, with the oils from Tallulah and the mud baths of Tawny and Rusty giving impetus to discover geography and the natural world. I can see primary school teachers rejoicing at What's Troubling Tawny? if they were to use it in their classrooms.
All that said, however, the greatest success in What's Troubling Tawny? comes through Emma Sandford's exploration of body image, similarities and differences, and friendship. The greatest lesson Tawny learns is that she is fine as she is and whilst her shyness is preventing her from making friends, it is equally true that others might be feeling exactly the same way as she is. Through What's Troubling Tawny? children can learn body confidence, emotional resilience, and empathy, so that this is a book that not only entertains young children, but helps them cope in the world too. I genuinely think What's Troubling Tawny? is a powerful educational tool as well as a fun story.
Indeed, What's Troubling Tawny? is the most gorgeous story of friendship, self-confidence and fun. I loved it.
PWT rating: ♥♥♥♥♥
What's Troubling Tawny?: 2 (The Sumatran Trilogy)
is published by Full Media and available from Amazon and bookshops.
Catch up with more of Linda's reviews at Linda's Book Bag.