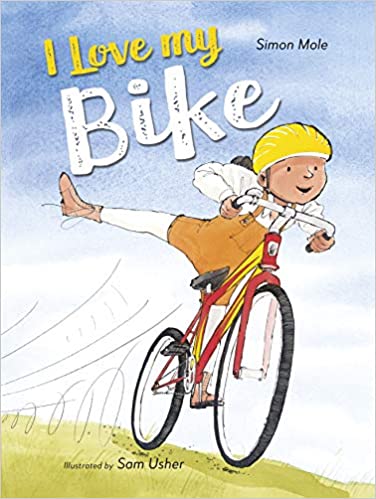 I Love my Bike is a delightful and enchanting book, written by Simon Mole and illustrated by Sam Usher. It covers a scenario many parents, carers and children will recognise and relate to – a child's first encounters with riding a bike. Bring written in the first person gives the book particular authenticity and realism. The imagery for children, in the language used, is also meaningful – comparing the spokes whirring to a cat purring for example.
The storyline describes the emotions felt by a child, of success as she finally rides her bike, and the despair and hurt when she inevitably, as all children do, falls off for the first time. The relationship between the father and his daughter is also beautifully told and illustrated.
When reading this book to our grandchildren we noticed a strong rhythm and lyrical pattern to the writing that expressed the feeling of the turning of the peddles on a bike. I Love my Bike is written in a free-form poetic style which is not surprising given Simon Mole is an acclaimed children's poet.
The illustrations by Sam Usher are perfect, dynamic and expressive. They captivated our grandchildren as the story was read and unfolded. The interweaving of the text with the pictures also gives that sense of movement and adventure. This technique immersed the children in the book and captured their imaginational. Our two grandsons (aged two and five) and our granddaughter (aged four) love riding their bikes, so seeing a story about the experience of another child particularly engaged them. There is also a moral sense in learning that when you fall off the best thing to do is get back on again. For a young child this is a hard lesson to learn sometimes.
I love this book and highly recommend it.
PWT review: ♥♥♥♥♥
Published by Frances Lincoln Children's Books and available through most bookshops and Amazon: I Love My Bike