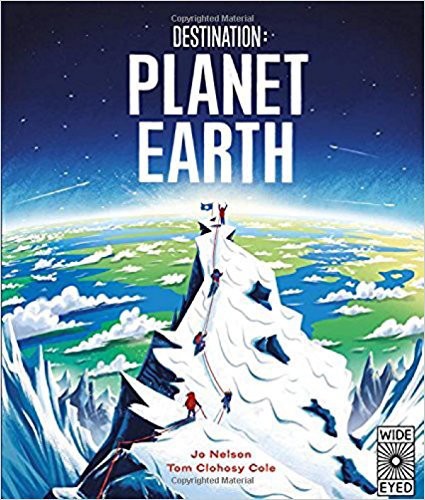 Aimed at children aged seven plus, Destination: Planet Earth by Jo Nelson and Tom Clohosy Cole represents a journey of discovery of the physical geography. Each perfectly illustrated double page spread deals with a topic beginning with The Oceans and Continents and ending with Saving Planet Earth.
In between topics covered include Mountains, The Poles, Volcanoes, Earthquakes, Biomes (ecosystems) packed with facts and figures. The book also has a huge double-sided poster for the young geographer.
This book is a perfect introduction to the geography curriculum (especially to adults who may not have studied the subject) teaching readers the exciting science behind how our planet – home – works. The narrative puts facts into context. For example the Beaufort Scale: "The higher the number, the faster the wind speed – and the higher the likelihood of something getting blown over!"
My only minor criticism of Destination: Planet Earth is that is would be useful to have a list of "chapters" at the beginning and/or including an index at the end of the book.
PWT rating: ♥♥♥♥♥
Destination: Planet Earth
by Jo Nelson and Tom Clohosy Cole is ublished by Wide Eyed Editions (part of the Quarto Group) and is available from Amazon and book shops.