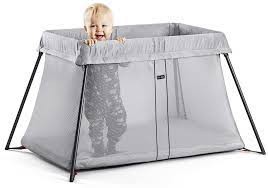 Years ago when my four children were small, I used a fair few travel cots but was never very impressed with them as a piece of kit. They were either too clunky and difficult to put up, or else too flimsy and not comfortable enough.
However travel cot design has obviously come a long way since those days, and now as a grandmother who has not only grandkids staying but also visits from relatives and friends living abroad, I'm finding this BabyBjorn Travel Cot Light an indispensable piece of baby equipment.
Weighing only 5kg, BabyBjorn Travel Cot Light is exactly what you want from a travel cot: neat, smart, compact and easy to carry on to a plane or other transport.
This cot is simplicity itself to unfold and set up in just a single movement which does not require you to be good at flatpack assembly or the Krypton Factor. It's equally easy to fold up and repack and store in its storage bag.
Angled sides make the Travel Cot a perfect fit for small spaces in hotel rooms and won't take up much room when staying with family. Comfort-wise the mattress is soft and the see-through mesh sides make nervous mums relax!
So all in all, this is a very smart yet functional baby bed that I would have no hesitation in recommending.
PWT rating: ♥♥♥♥♥
BabyBjörn Travel Cot Light, (RRP £215) is available from BabyBjorn and other stockists.