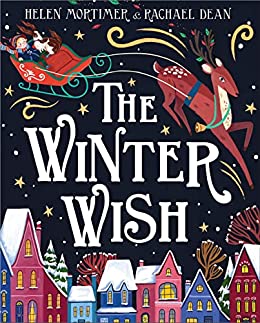 Written by Helen Mortimer and illustrated by Rachael Dean, The Winter Wish is a lovely tale of magical happy endings – something we could all do with at the moment.
Words of Wonder is a perfect bookshop filled with stories and delightful adventures. William has lived there all his life and now at age six he is 37 books tall. William loved his life and home but just 11 days before Christmas he overhears his parents conversation: they are not making enough money to continue. It seems their bookshop at the end of the street is to far for people to visit even though William's father makes gingerbread for the customers who do come to browse.
William knew he had to save the bookshop – but how?
Early the following morning he and his dog, Rufford, go out to gather twigs and leaves. He worked hard all day using materials from the recycling box as well. When he had finished his task he led his parents outside the shop to see what he had created. It was a leafy reindeer pulling a sleigh full of books in the shop window. Would that be enough to attract customers?
Well that's where the magic comes in...
This is a beautifully written book which will delight readers of all ages.
Do study the illustrations – the detail is amazing along with some gentle humour.
Perfect for this season and available online and would make a lovely stocking-filler.
PWT rating: ♥♥♥♥♥