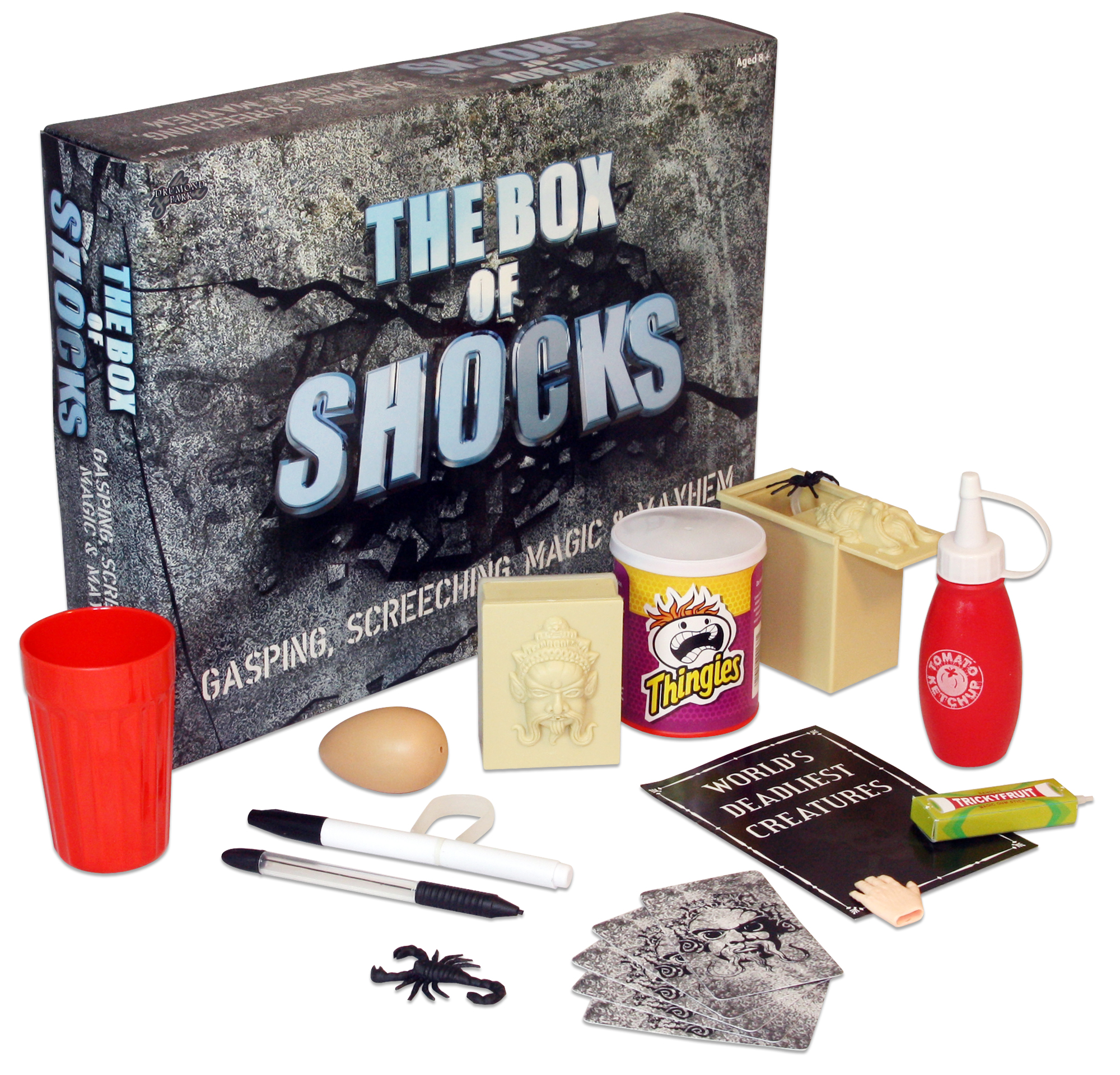 The sparkling and witty BOX OF SHOCKS from Drumond Park (age 8 to adult, rrp £19.99) is a "must have" compendium of shocking gags and gut-wrenching tricks which is sure to put its owner firmly at the top of the prankster league! Every one of these marvellously clever illusions is cunningly designed to take your victim entirely by surprise and extract that fabulously satisfying shriek that says "Gotcha!" loud and clear… And Parenting Without Tears has five BOX OF SHOCKS to be won in this great competition.
Kids can start with the gruesome Finger Breaker trick, where you appear to savagely twist your finger backwards while flicking a hidden sound ratchet to make a horrendous "click". Then you curl up in "pain", cradling your "injury"… That really gets them going!
Mealtimes with unsuspecting friends and family will never be the same again with the devious fake Ketchup Bottle to hand. Get the preparation right… then watch their horror as you "squirt" it straight onto their neatly combed hair or clean clothes! But rest easy, there'll be no staining at all.
In the same genre, the hilarious Magic Glass lets you pour water into a cup and then be seen to toss it over your chosen victim – without them actually getting wet!
Amongst other pranks included in the box are Squirting Chewing Gum, a Fake Egg, Vanishing Ink and a Body Parts Box. The excellent instructions are well illustrated, and it's all good, clean fun – with no mess and no staining. But stand by for loads of laughs and shocking trickery – ensuring that there's never a dull moment!
For a chance of winning a BOX OF SHOCKS, just answer this question:
Which trick will have you curled up in "pain"?
Please write BOX OF SHOCKS in the subject line of your email and include all your contact details. Only one entry per household – multiple entries will be automatically disqualified.
This competition is now closed.
Winners will be the senders of the first five correct emails opened at random after 1pm on Tuesday 29 September, 2015.
For stockists and to play games online, visit Drumond Park.