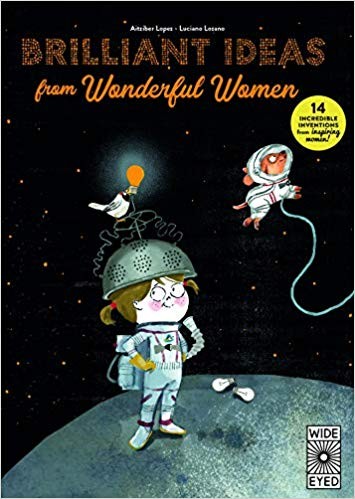 Brilliant Ideas from Wonderful Women by Aitziber Lopez and illustrated by Luciano Lozano, is the perfect book to introduce young readers to 15 inventions that were created by women.
How apt that both the car heater and windscreen wipers should have been invented females who worked out how to solve problems. Margaret A. Wilcox's original invention became a health and safety risk but it inspired the car heating system we have today and Mary Anderson had problems registering her windscreen wiper as at that time this had to be done by a man! However she didn't give up even though it took her two years.
These are just two of the inspirational stories about women born at the end of the 19th/20th centuries who put there minds to solving practical problems plus one game, Monopoly, designed by Elizabeth Magie Phillips.
This book is a wake-up call to us all to recognise and pay tribute to the women behind such inventions from disposable nappies and the dishwasher to sea flares and the first medical syringe.
The illustrations are great – perfectly in tune with the subjects. An ideal book to keep at the ready to inspire young minds.
PWT rating: ♥♥♥♥♥
Published by Wide Eyed Editions, part of The Quarto Group, Brilliant Ideas From Wonderful Women
by Aitziber Lopez and illustrated by Luciano Lozano is availabel from bookshops and Amazon.