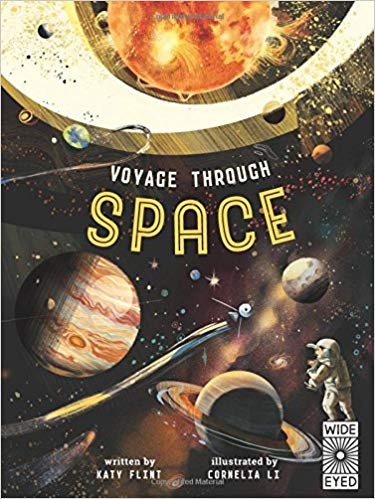 Illustrated by Cornelia Li, Glow in the Dark: Voyage Through Space by Katy Flint is the perfect introduction for young (KS1) readers to the planets in our solar system. Full of fascinating facts – " The weather on Saturn is more windy than the very strongest hurricanes on Earth – and amazing pictures, this book is a delight to read and explore.
The adventure undertaken by a little astronaut and her dog, begins with the Sun and moves out through the planetary orbits from Mercury until we reach Pluto and then the Kuiper belt, which is made up of thousands of lumps of ice, rock and metal which very slowly orbit the Sun.
Younger children will need help with the reading but really this is a book to be enjoyed together. And as a bonus there a glow in the dark poster depicting the whole solar system. Great for any school projects.
The cover is fun to touch as the images of the planets depicted have a different finish – and glow in the dark.
PWT rating: ♥♥♥♥♥
Published by Wide Eyed Editions Glow in the Dark: Voyage through Space
by Kay Flint and illustrated by Cornelia Li is available from bookshops and Amazon.