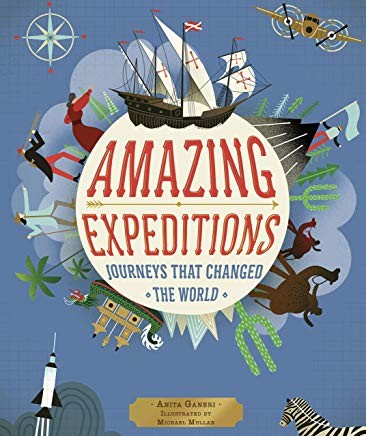 Illustrated by Michael Muller, Amazing Expeditions – Journeys That Changed the World by Anita Ganeri is a great book for primary school children.
Harriet, in year four, went straight to the Ernest Shackleton who she was studying at school.
Each double page spread is devoted to an explorer with bite-sized facts. The narrative is well laid out with arrows directing the reader to the next numbered section. The introduction gives some fo the reasons to explore and there is a section which explains the maps.
The expeditions are arranged in historical date order so we begin with Hanno the Navigator born in the fifth century BCE who made the first recorded voyage along the coast of west Africa and end with Dame Ellen MacArthur whose amazing single-handed sailing around the world took place from 28 November, 2004 to 7 February, 2005.
This is a wonderful compendium of fascinating facts, with engaging illustrations by Michael Muller and makes a perfect present.
PWT rating: ♥♥♥♥♥
Amazing Expeditions: Journeys That Changed The World
, published by Ivy Books, is available from Amazon and bookshops.