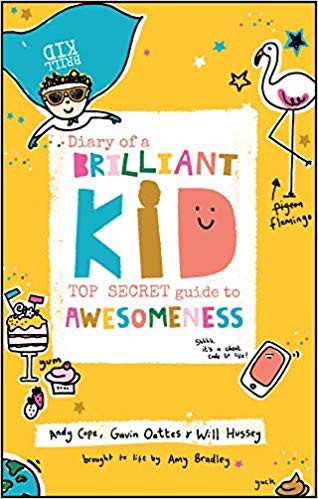 Diary of a Brilliant Kid Top Secret Guide to Awesomeness by Andy Cope, Gavin Oattes and Will Hussey had Harriet in tears of laughter. There's a lot of mentions of poo and toilet rolls which obviously appealed to her!
This is a book to dip into and have fun with. For some reason Harriet loved the section on numerous ways to die which included "ice skating with no ice" and "forgetting to breathe". In fact all the sections that had lists, bullet points and numbered answers attracted her attention.
The "Diary" part of the book (for the reader) is fairly limited but always positive as in listing eight reasons why you should love yourself at the beginning of the book which is divided into five chapters and – most usefully – has an index as well.
As reflected on the cover, the inside of the book is brightly coloured and is "brought to life" by Amy Bradley.
It is obvious the authors of this book had an amazing time creating it and we think a lot of children will have just as much fun discovering how to be awesome.
This is the diary that you can give at any time of the year and it makes a great stocking-filler.
PWT rating: ♥♥♥♥♥
Diary of a Brilliant Kid: Top Secret Guide to Awesomeness
is published by Capstone and is available from book shops and Amazon.