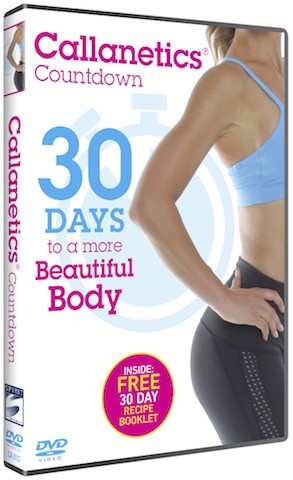 Callanetics Countdown: 30 Days to a more Beautiful Body is the first Callanetics Fitness programme to be released on DVD by Spirit Entertainment, 30 years after the original programme was launched by Callan Pinckney. In the late 70s, Pinckney had walked around the world with a rucksack on her back. She damaged her knees and back in the process.
In her search for a remedy, and to avoid surgery, she experimented with movements and exercises. The unique exercises she created not only healed her injuries but also toned and shaped her body with incredible speed and effectiveness. She then began teaching the exercises from her New York apartment. Pinckney's first book Callanetics: 10 Years Younger in 10 Hours was first published in 1984 and spent two years at the top of the New York Best Seller list.
Callanetics is a series of stretching and contracting exercises that activate the body's largest muscles groups, using tiny, gentle, precise movements, called pulses. These pulses reach deep into the muscles to give you a strong, firm body, without adding bulk. Join presenter Lacey Kondi and her team as you take your first step towards a lovelier body.
CaIlanetics helps you defy gravity. As many students have said, Callanetics is like a face-lift for your body. Most of all, the unique movements of Callanetics strengthen and relax you at the same time. No longer will you feel exhausted or drained after a workout. You'll feel energised.
The Callanetics Countdown is made up of 3 levels, each one getting progressively more challenging:
Level 1 – Days 1 to 5

Level 2 – Days 6 to 15

Level 3 – Days 16 to 30
The exercises are clearly explained and demonstrated and they are certainly not off-putting. My only (slight) criticism is that the sound sometimes goes quieter and Kondi isn't always picked up by the correct camera angle.
However, that said, this is a great DVD to get you moving and facing a healthier, more streamlined future.
To be in with a chance of winning a copy of Callanetics Countdown: 30 Days to a more Beautiful Body, just answer this question:
Who designed the first callanetics fitness programme?
Please write Callanetics Countdown in the subject line of your email and include all your contact details. Only one entry per household.
This competition is now closed.
Winners will be the senders of the first two correct emails opened at random after 12pm on Thursday 26 January, 2017.
If you can't wait to get started, you can order Callanetics Countdown - 30 Days To A More Beautiful Body [DVD]
from Amazon.