A new research report from Puressential – The Science of Essential Oils: Why It Makes Scents – reveals how the UK is turning to natural, clinically proven essential oils to help ease daily health and wellness troubles.
Natural health specialist and chemist, Dr Tim Bond comments: "Essential oils have been valued and used for centuries, but we are still learning about the ways they work, and unlocking some of the complex synergies and mechanisms which underpin their long history. There is now a lot of evidence that combinations of essential oils are far more potent than the sum total of each constituent oil."
We have various previous articles on Puressential and their efficacy including:
Puressential Restful Range for a Good Night's Sleep
Tackling Pollution in the Home with Puressential
Now their are some new products for easing aches and pains which are available exclusively online.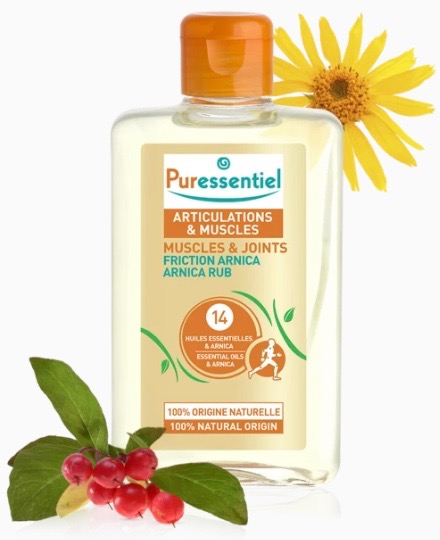 Puressentiel Muscles & Joints Arnica Rub (£18.50/200ml) combines 14 essential oils and arnica to relieve rheumatism, fight inflammation, relieve pain, relax muscles and reduce bruising.
I am a huge fan of Arnica as a homeopathic remedy so seeing it combined with essential oils had my attention.
Many of us suffer from low back pain which is not helped by sitting at a desk all day and then sofa bound for the evening! Targeted exercise really helps and also, as I have found The Muscles & Joints Arnica Rub. This is a clear liquid applied to the areas which need it. Wash hands thoroughly afterwards. The product does bring some relief which, of course depends on the severity of your pain and you should consult your GP if you are still suffering after using for seven days.
I haven't tried the Puressentiel Muscles & Joints Bath Shower, although I imagine it is the perfect addition to your daily routine to relax sore muscles and each aches and pains. It can also be used in a foot or hand bath to ease joint pain.
Nor have I had the opportunity to use the Puressentiel Muscle Relaxing Organic Massage Oil which combines essential oils including wintergreen, lemon eucalyptus and lavender with the restorative properties of arnica, chilli and meadowsweet but it comes with a good pedigree.
You can find the full Puressential range here.