Using easy to follow instructions, fine food lovers simply use the combination of a premium quality flavoured oil, a stock or paste, and a premium herb mix to knock up a delicious treat in minutes courtesy of new Cooks&Co Meal Kits.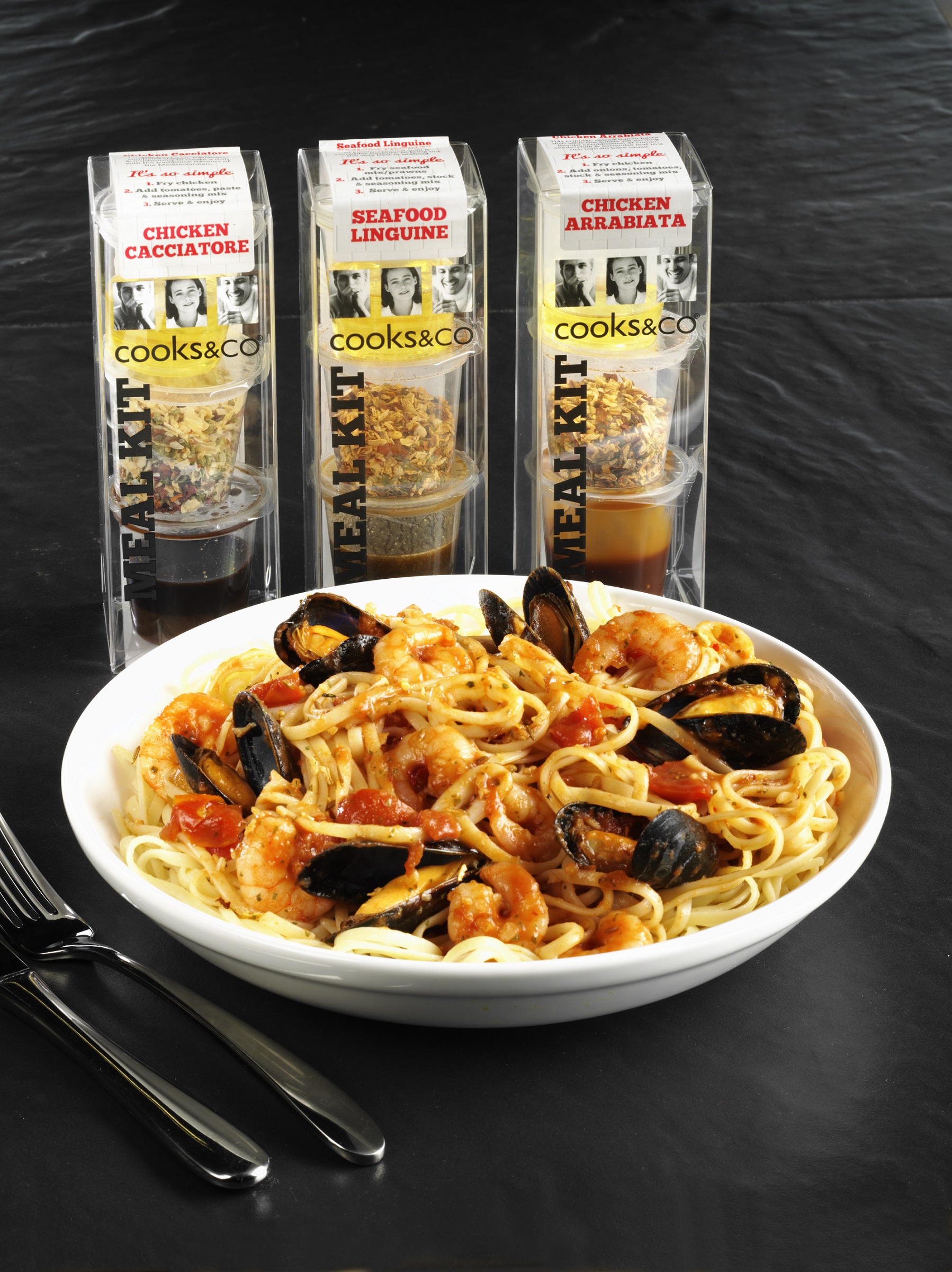 Six great recipes are available and have been launched by Cooks&Co and
each Meal Kit provides the base for a delicious meal for between two to four people, and can typically be prepared in 15 to 30 minutes, with the addition of two or three extra ingredients such as meat or fish and tomatoes, and a staple accompaniment such as pasta, rice or potatoes.
Meal Kits are available in the following varieties:

Chicken Arrabiata – a subtle yet exciting flavour combination of cumin seeds, chilli and coriander leaf, which combine with a rich tomato base sauce to make this a fantastic chicken pasta dish with a punch.
Seafood Linguine – this sophisticated Italian pasta dish draws on a subtle blend of cumin, crushed chilli and coriander flavours to bring out the very best in seafood.
Chicken Cacciatore – a base of onions, basil and pepper lend warmth, authenticity and depth to this classic Italian chicken casserole.
Chicken Provençale – this timeless French casserole brings together the warm flavours of the Mediterranean with the richness of peppers, tomatoes and fresh chicken. Exquisitely comforting, it bursts with the warm full flavours of Provence.
Jerk Chicken or Beef – Cayenne, chilli, cumin and oregano combine to create this tantalising Jamaican Jerk dish.
Beef Goulash – this rich Hungarian beef casserole combines the warmth and vibrancy of smoked paprika with garlic, parsley and black pepper to create a deeply satisfying tasty classic.
Chicken Arrabiata is a favourite Olivia and I often order at our local Italian restaurant. The Meal Kits version compared extremely favourably and we both really enjoyed the meal. Alex and I shared the Chicken Provençale which was delicious.
Cooks&Co Meal Kits are ideal for:

producing a delicious, gourmet meal in record time
students
those who'd like to reproduce a favourite restaurant dish but don't want to buy numerous ingredients
taking on a self-catering holiday
having in the cupboard in case of unexpected guests!
PWT rating: ♥♥♥♥♥
Available from Ocado now (RRP: £2.29).