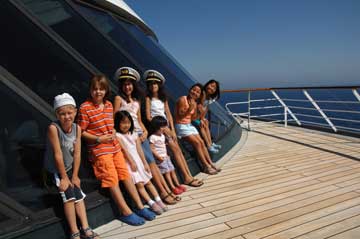 Cruise Critic's
new planning section addresses the
questions
most frequently asked by
holidaymakers
new to
cruising
– with tips on everything from
shore excursions
to kids programmes.
Travellers
can also find critical
information
, such as articles on
cruise safety
, travel insurance and
health issues
.
Here are
Cruise Critic's
top ten tips for those
new to cruising
:
1. Not all ships are created equal
Don't
choose your cruise
based on destination, duration and price alone. The
cruise line
you book with and the
ship
you sail on are very important. That's because some cruise lines cater to
families
, while others market to seniors. As such,
onboard facilitie
s and activities vary, so do your research, ask questions, and find a
cruise
that's right for you.

2. It's okay to arrange your own shore excursions
There's no stigma attached to
going it alone
or teaming up with other travellers to
save money i
nstead of paying for the
shore excursions
arranged by the cruise line. However,
investigate your options
before you cruise to ensure that you are spending your day in port with a reputable
tour operato
r. And remember this crucial piece of advice:
don't be late
getting back for the ship – it
won't wait
for you.

3. Travel agents have access to perks and special offers you might not find elsewhere
A reputable
cruise agent
can be a great help to a
new cruiser
booking for the first time, and he or she may also have access to
offers and incentives
you might not find elsewhere. Do make sure you investigate your
travel agent.
Does the agency have "
preferred" relationships
with cruise lines (most do), and if so, which ones? What's the
schedule for paying
for your cruise? Does your agent
respond promptly
to your questions – not just pre-booking but also once you've committed to a cruise?

4. Don't be left for lost in portCruise lines
rarely go beyond offering a list of
shore excursions
and a map of the local jewellery stores (with which they have special business agreements), so
read up on the ports
you will visit before you set sail.

5. It rains in the Caribbean ... and other dreamy destinations
The tropical
Caribbean climate
(not to mention weather in the Canary Islands, Hawaii and the South Pacific) can be
unpredictable
, so high on our list of must-pack items is a
lightweight, waterproof jacket
or poncho. For a broader look at what to pack on your upcoming cruise, check out
Cruise Critic's Cruise Packing 101
story.

6. You can't take your own booze onboard
Check out the
alcohol policy
for the cruise line you are travelling with before you go for
full details
of what beverages you are
allowed
to take with you.

7. Don't tip double on beer – remember, there's auto-gratuity
Check cruise line
tipping policies
before you sail; most big-ship lines – Carnival, Royal Caribbean, NCL and others -- automatically tack on a
15 percent service charge
to bar bills. Unless the
service
was spectacular, there's
no need
to add another tip on top.

8. Staying in touch with home
Using your
mobile phone
on a cruise ship can be
prohibitively expensive
, and onboard
Internet cafes
are not just pricey. The
connections,
which are made via satellites, are
much slower t
han you're used to at home. Before you leave home,
investigate options
for staying connected, whether it's purchasing a special
cruise-friendly mobile phone package
(through your local provider) or compiling a list of
in-port Internet cafes
.

9. Use the stairs (and you can enjoy the buffet guilt-free)
There's usually a
gym
on most of the larger ships and plenty of
active tours
to choose from, plus new
spa menus
and lighter dining options are available. But, the
simplest way
to stay in shape is to
take the stairs i
nstead of the lift for a little exercise. The flights of stairs on a
15-deck cruise ship
will help to keep off the extra pounds.

10. On embarkation day, avoid the buffet throngs, and score a quiet mealMost people
pounce on the buffet the minute they get onboard, leading to long queues, so
bypass the buffet
or pool grill, where the masses gather, and head to a
dining-room
for some peace. Not every line opens its
dining-rooms
for lunch on
embarkation day
, but some lines, including NCL and Princess, do.
For
further information
about cruises, go to www.cruisecritic.co.uk