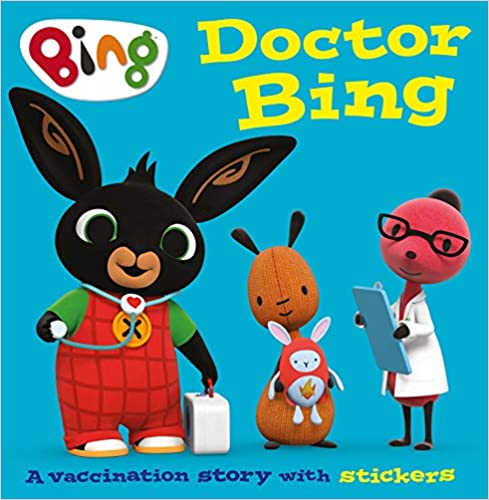 A brilliant new Bing picture book about vaccinations for preschoolers that comes with stickers!
Bing has got his vaccination today but before he goes he practises at home with Flop. He can't wait to go to Dr Molly's clinic to get his injection and his special Hoppity Voosh sticker for being brave!
But not all his friends are feeling as brave as Bing. Can Dr Bing help them?
An enchanting story reflecting the reality of a pre-schooler's routine experience of vaccinations, the nervousness some feel and the key role stickers play in incentivising them.
This is an upbeat book with Bing role playing and learning that vaccinations are nothing to be afraid of.
Bing is an EMMY award-winning animated pre-school series on CBeebies that celebrates the noisy, messy reality of toddler life and is broadcast in 117 countries worldwide.
PWT rating: ♥♥♥♥♥
Published by HarperCollins Children's books and available in bookshops and from Amazon.