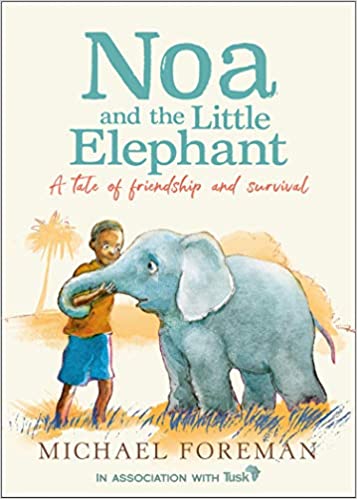 I love elephants so any book which includes one of these beautiful beasts has me interested.
Noa and the Little Elephant is a heart-warming and sadly relevant story about elephant conservation, from picture book legend, Michael Foreman.
Noa loves to watch the elephants play in the water near his small village in East Africa. One day, the elephants do not come to the water so Noa goes in search of them. He is horrified to discover that the mother elephant has been killed by poachers for her tusks and her baby is left all alone, grieving by her side.
Noa takes the young orphan elephant back to his village and a beautiful friendship blossom. Until one stormy night when Noa may need his friend to save him too…
This charming story addresses the concepts of conservation, friendship and loss and joy which can be used as starting points for conversations with children.
Perfect for children of all ages to share with their families and learn about the the environment and the importance of preserving remarkable world we live in.
PWT rating: ♥♥♥♥
In Association with Tusk, the African wildlife conservation charity, HarperCollins Children's Books is proud to draw attention to the plight of the elephants through award-winning and bestselling Michael Foreman's exquisite illustrations and gripping tale of survival and friendship.
Noa and the Little Elephant: An important story about friendship and saving the elephants