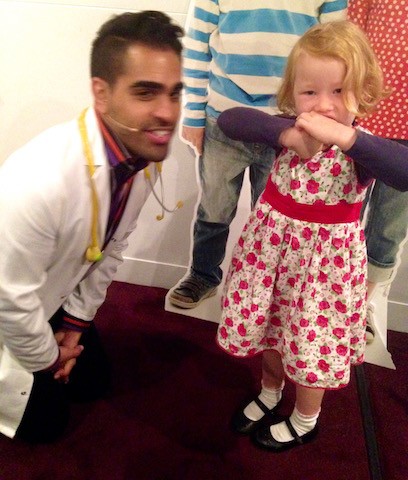 It was Harriet who got me into watching Strictly Come Dancing and she is an absolutely committed fan. She also grew up watching Get Well Soon on CBeebies which was created by and stars Dr Ranj Singh who is also the popular resident medic on ITV's This Morning show.
Harriet and I met Dr Ranj in Manchester when we were guests at the recording of CBeebies Peter Pan in 2014. Harriet was just four and was so excited but shy to meet her TV heroes, as you can see from the photo.
Four years on and I know she'll be cheering on the doctor as he exchanges his stethoscope for his dancing shoes. Her reaction when she heard the news was "Yay!"
At the pantomime reception I had no idea that Ranj really was qualified doctor until I met him at another press event some time later when he remembered Harriet! Full marks there.
Let's hope he's light on his feet and that his brilliant personality shines through his dances and he scores just as highly with the judges. I have a feeling many in the audience are already won over!
Strictly Comes Dancing new series will begin broadcasting on BBC One 8 September to introduce the contenders and their partners. Two weeks later the the contest begins.