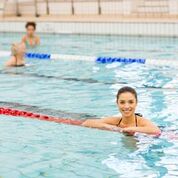 New research reveals that one in five adults is unable to swim – the only sport that could actually save your life.
Fusion Lifestyle – a charity that manages 80 public pools across the UK – carried out research to better understand the barriers to learning to swim, before embarking on a mission to find simple solutions to help non-swimmers overcome them.
The top way to get more people swimming confidently, Fusion discovered, is one to one lessons so they offered one lucky Parenting Without Tears reader that opportunity.
Our competition winner is Jacqueline Roberts from Kettering.
Wth thanks to Fusion Lifestyle for sponsoring this competition.