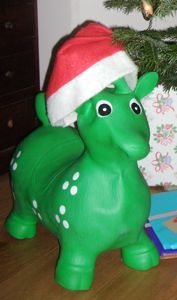 I love the week before
Christmas
, seeing friends, carol concerts and
wrapping presents
but it's easy to feel a bit
overwhelmed
by all the
preparations
.
There's still
plenty of time
so:
First of all make a list of all the things you need to buy, do, make.
Prioritise jobs in the house and delegate as much as you can if your children are old enough.
Stock up your first aid box for any emergencies and make sure you have enough of any prescription medicines your family takes.
Wrap presents in stages and don't leave everything until the last minute – it always takes longer than you allow for.
Plan some daily activites for your children from a walk in the park to making biscuits or cakes.
Play Christmas music to get you all in the mood.
Watch a favourite film together – add some popcorn and it feels like a treat!
Take some time out for yourself to relax – ten minutes mediation or a scented bath can work wonders.
Prepare as much as you can in advance for Christmas day if you are entertaining at your house.
Have a notebook and pen to hand on Christmas morning so you can keep a record of who gave what to whom which will be a great help for thank you letters!