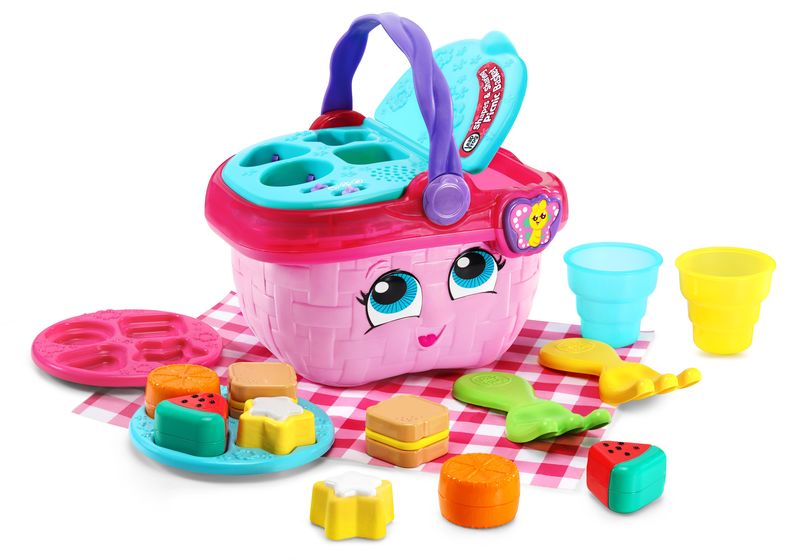 The Leapfrog Shapes and Sharing Picnic Basket with its different, colourful shapes provides appropriate age related activities for all the children in our family aged 20 months, three and four years old. I can easily see that The Leapfrog Shapes and Sharing Picnic Basket will work equally as well with younger children and is designed for children from six months old. Our 20 month old grandson in particular loves the musical option and jigs around happily whilst arranging the circular oranges, square sandwiches, triangular watermelon slices and star shaped biscuits on the shape sorting plates provided with the set. Even more remarkable he listens to what's being said. With the combination of clearly spoken instructions – developing language skills, the link to mathematical shapes and social skills – with the use of "please and thanks", this toy is an outstanding learning aid. And fun too…lots of giggles and laughter from the children, taking turns to put objects through the shaped holes and setting out the picnic table, sharing matching shapes on the plates. I personally love the small checked tablecloth as it's made in an easy to clean crease resistant material. Great when fingers get mucky at snack time!
There are so many engaging features to this latest addition to the Leapfrog range. The Shapes and Sharing Picnic Basket has easily accessible buttons making it straightforward for small fingers to switch on/off and change activity. There are three different distinctive activities – musical; sorting shapes and colours and following instructions. The butterfly button to operate the sound, the sorting plates, large forks, cups and shapes are all brightly coloured as is the picnic basket itself – making it very appealing to children.
It was enthralling to watch the children invite the resident teddy bears and soft toys to join the picnic and the conversations between the children were fascinating to listen too. And even more appealing the activities need very little adult supervision as the objects are too large to be choking hazards and there are no sharp edges or traps to catch small fingers.
In a very short period of time the Leapfrog Shapes and Sharing Picnic Basket has become another firm favourite on visits to Nana's. Easily the best thing since sliced bread!! And is especially relevant during National Picnic Month. A definite hit!
PWT rating: ♥♥♥♥♥
LeapFrog Shapes and Sharing Picnic Basket
is available from Amazon and toy shops.