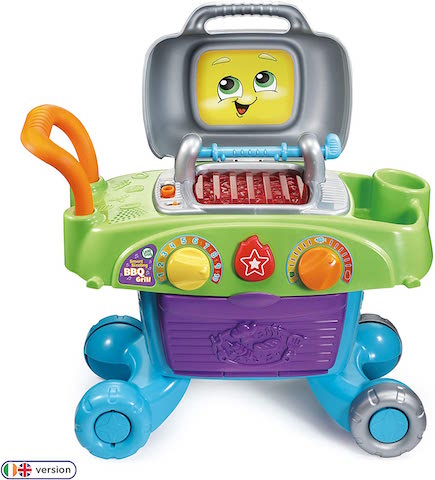 With the good weather we've been having this summer the prospect of reviewing the Leap Frog Smart Sizzling BBQ Grill was met with whoops of joy and excitement from the three children in our family. Since its arrival it has provided hours of engaging play and fun for all the children aged 4, 3 and 18 months.
Assembly was very straightforward, not requiring the instruction booklet provided or, thankfully, batteries as these were already installed.
Unexpectedly the voice for the children to listen to, encouraging language development, is Australian – amusing at first but after awhile can be tiresome. Luckily for adults there is an on/off switch and a low/high volume control (always useful).
The Leap Frog Smart Sizzling BBQ Grill is brightly coloured and attractive to the eye. The controls for the different activities – grilling, music and rotary – are easy to use for tiny hands as is the door for the useful storage bin underneath the grill. Good news for adults clearing away at the end of the day as all the food and tools can be put in one place ready for the next day. There are no sharp edges, small parts or finger traps so minimal adult supervision needed- an added bonus for the adults wanting a quiet afternoon in the garden!
A great toy for encouraging children's social learning and interaction the Leap Frog Smart Sizzling BBQ Grill is also an interesting mix of formal and imaginative play. It provides opportunities for children to act out 'kitchens', offering tasty different meals to the more traditional fruit and vegetables other toys offer. Who can resist barbecued prawns and sweetcorn?
The children love listening to the BBQ instructions and music. Being ever inventive our granddaughter uses the plates and plastic food as musical percussion instruments whilst dancing enthusiastically. And the tomato sauce bottle rattles! Obviously adults are welcome (and are told to) join in to make it more interesting and noisier.
Having wheels makes it more portable for use in the garden (where else would you want a BBQ in this weather) but equally versatile for use indoors. Having only moveable wheels at the front makes it less useful for children just starting to walk but this has the advantage of making it more stable.
I highly recommend the Leap Frog Smart Sizzling BBQ Grill as a welcome change from the usual educational toy kitchen. It's engaging and provides hours of fun and learning.
PWT rating: ♥♥♥♥♥
Currently on offer on Amazon at £29.99
LeapFrog Smart Sizzling BBQ Grill Toy BBQ, Kids Kitchen BBQ Playset with Play Food, Play Kitchen Accessories, Counting & Sounds, Childrens Kitchen BBQ for Boys & Girls 2, 3, 4, 5 Year Olds