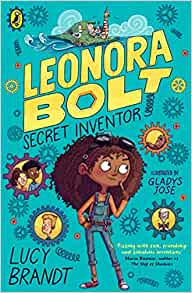 Leonora Bolt spends her days creating incredible inventions in her TOP SECRET laboratory, little knowing that her terrifying uncle Luther was watching her every move. The live with their strange housekeeper, Mildred, in a lighthouse, the only inhabitants of Crabby Island, the only home orphan Leonora knows.
Everything changes one day when a strange boy called Jack washes up on an inflatable lobster and reveals that Uncle Luther has been stealing her inventions and selling them on the mainland. But he is involved in far more darstardly deeds and Leonora and her new-found friend must act quickly.
Armed with her most important inventions, she must leave Crabby Island for the first time EVER to embark on an unforgettable journey that will test her brainpower to its limits. With the help of her pet otter with a special skill, a questionable cook and a singing sea captain, and Jack can Leonora dream up an invention that will defeat her evil uncle once and for all?
This is such an engaging and exciting book for younger readers.
In Leonora Bolt: Secret Inventor, Lucy Brandt has created a fun-filled adventure with a tantalising mystery which will delight children – and any adults reading the book aloud to them. Gladys Jose's illustrations perfectly complement the narrative which is written from our young heroine's point of view – there was only one comment that pulled me up short and that was a reference to chicken pox which I felt didn't fit. One in a whole book is hardly a crime!
PWT rating: ♥♥♥♥♥
Published by Puffin and available from bookshops and Amazon:
Leonora Bolt: Secret Inventor (Leonora Bolt: Secret Inventor, 1)