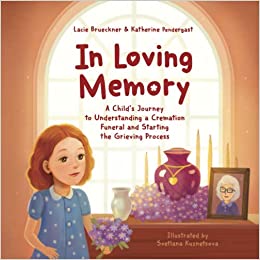 In Loving Memory is just the kind of book needed to help children come to terms with the death of a loved one, because it reassures them that the feelings they have are perfectly natural and to be expected. It's short and accessible enough for a child to read independently, but I think would work best when shared with an adult so that discussions can be had about their own deceased loved ones. The concept of cremation is made clear and is dealt with in a matter of fact manner that demystifies it for children and removes the fear and trepidation.
In Loving Memory takes a child through the grieving process, but keeps a focus on positive aspects such as recreating activities that have been enjoyed together as when Harper bakes the cookies she used to love making with her Grandma. I think this would be a fabulous thing to do. I loved the scrapbook Harper's Mum makes of all the things Grandma loved the best so that there is a permanent reminder of the joy in her life. This would be a healing and helpful idea for adults and children alike to ensure their memories of those they loved remain clear and present. The space for young readers to share their own favourite memories of a loved one at the end of the book, either through writing or drawing, was an excellent touch too.
The illustrations in In Loving Memory are beautifully presented, conveying emotions and complementing the writing perfectly so that whilst the subject is sad, the book is actually uplifting. I have one small comment to make in that I'd have liked Grandma to have friends and family of a wider ethnic range to make the book even more inclusive, but this is very much a personal preference.
In Loving Memory could be just the resource families, teachers, children's workers and others are looking for in tackling the tricky subject of death with children aged four to eight. I recommend it.
PWT rating:♥♥♥♥♥
Published by Kat's Socks and available from Amazon: In Loving Memory: A Child's Journey to Understanding a Cremation Funeral and Starting the Grieving Process
For more information about the authors, and to read reviews of other books visit Linda's Book Bag.