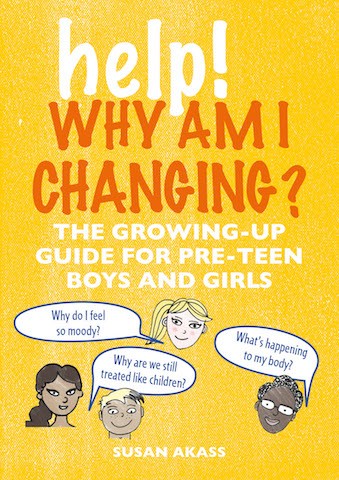 Help! Why Am I Changing?, written by Susan Akass and with invaluable input from Dr Frances Butcher, Dr Rosanna Bevan and James Hull, is aimed at children aged nine to 12 who are just entering puberty.
Although children in primary school are given lessons on "growing up" it's wise not to rely on them. I heard one girl confusing puberty with periods!
Some children like to digest information before they start asking questions and it's good for parents to be alert to concerns and fears about a child's changing body and helping them by furnishing information they can understand.
Help! Why Am I Changing? is an excellent book to have ready. You can read the book together, glance through the topics or just consult as and when necessary.
With an accessible Q&A approach, the book focuses directly on the concern at hand, providing practical factual information and advice and reassurance. It deals with the physical and emotional changes in puberty, discusses healthy living and safety, and introduces sex and relationships in a simple, straightforward way.
However, the book is best used as a starting point for conversations and discussions in which parents and children can talk about the issues raised in the book.
The comprehensive index will navigate parents to the appropriate section(s).
PWT rating: ♥♥♥♥♥
Help! Why am I changing? The growing-up guide for pre-teen boys and girls
is published by Cici Kidz and is available from Amazon and bookshops.