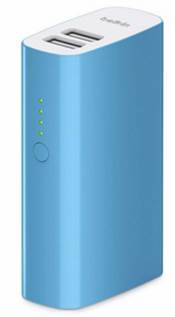 MIXIT↑™ Power Pack 4000 from belkin means you never have to worry about running out of charge on your mobile phone.
The MIXIT↑ Power Pack 4000 lets you keep your devices charged no matter where you are. This versatile charging device has two USB ports so you can charge tablets, e-readers, and other USB-enabled devices even when you don't have access to a power outlet or a computer.
Simply ensure that the battery pack is charged before leaving your house and connect it to your device using your USB cable whenever you need a charge.
Give one to your teens and they will never again be able to use the excuse that their phone was dead. Plus if you are away from home of the office or travel regularly you can have peace of mind that your phone will always be ready to use.
The MIXIT↑™ Power Pack 4000 will give your smartphone two complete charges and will be recharged via an electrical supply within two hours.
The four lights at the side of the pack indicate how much power is left. Two lights will completely recharge a smartphone.
PWT rating: ♥♥♥♥♥
Available in five colours: blue, red, black, green and pink, the MIXIT↑™ Power Pack 4000 is available from belkin at £24.99 plus £3.99 p&p (free delivery with orders over £40).