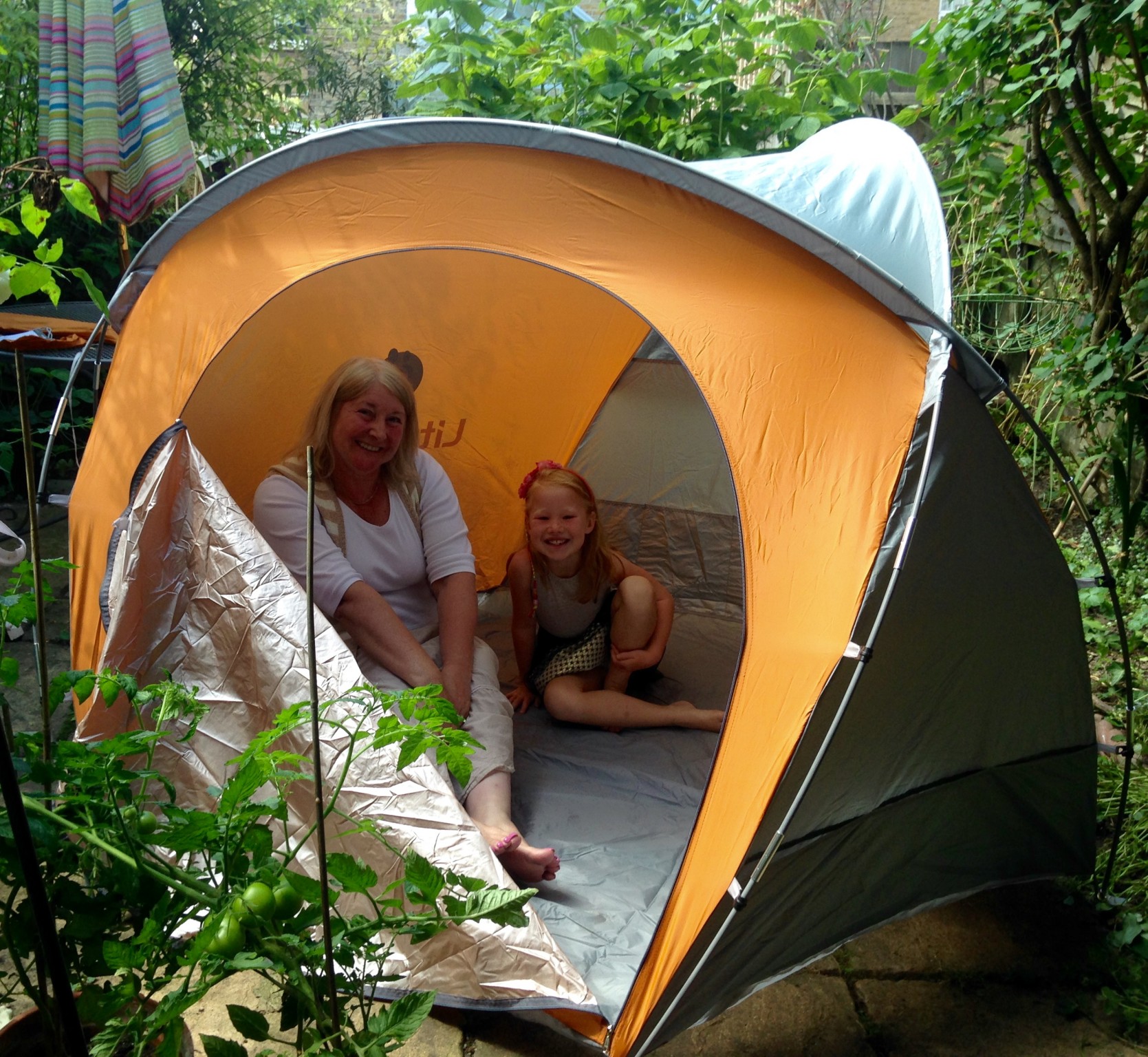 I'm a great fan of sun tents especially for beaches and parks where there is little natural shade. LittleLife's Beach Shelter's fabric offers UPF 50+ protection and provides a place to store your belongings, picnic as well as offering a "playroom" for children or somewhere safe to snooze for little people.
As soon as Harriet saw it she wanted to try it out – not wanting to wait until we went to a beach. So our friend Dave erected the tent in our small London garden. It took him 16 minutes and would probably be quicker the next time we used it. The Beach Shelter was soon set up and Harriet couldn't wait to get inside and insisted that Christine joined her. There was more than enough room.
After our initial trial, Dave dismantled the tent in a few minutes and the whole thing was quickly folded into it's carrying case with no problem at all. We are now looking forward to taking it with us to the seaside.
LittleLife's Beach Shelter is available in two sizes, Family and Compact and come with a free towel. Both models have a stable, semi-geodesic design and large sand pockets that ensure the shelter remains firmly on the ground, even on windy summer days. Made with high-quality, UPF 50+rated fabric, the Beach Shelter offers increased protection against harmful UV rays – perfect for staying out of the sun when it is at its hottest.
Both models feature a large front opening that allows easy access and the Family Beach Shelter even has a zip-down front panel, instantly transforming it into a convenient changing room for the whole family.
Perfect for family adventures at the beach this summer, LittleLife's Beach Shelters offer fun and safety in the sun.
PWT rating: ♥♥♥♥♥
For more information about these Beach Shelters, visit LittleLife.
LittleLife Family Beach Shelter
and Littlelife Compact Beach Shelter
are available from Amazon.