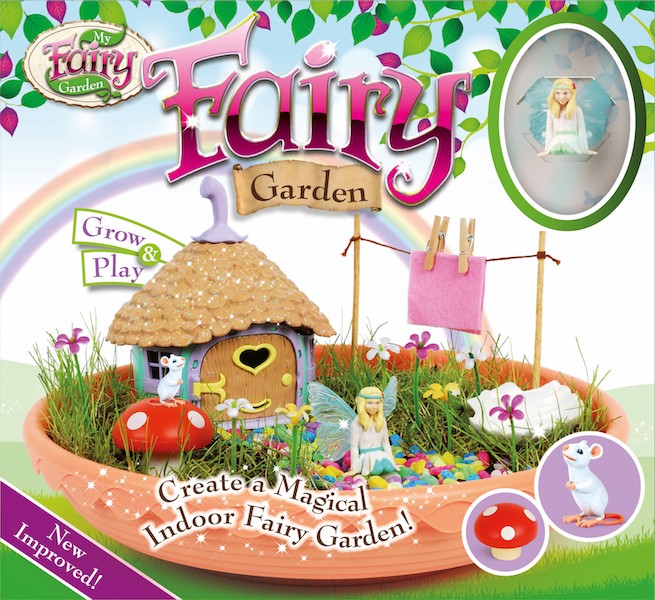 With the My Fairy Garden range, children can imagine, create, nurture and grow their own fairy garden. My Fairy Garden encourages interaction with nature through play. The kits offer children a delightful experience of imaginative open-ended play whilst discovering the magic of growing real plants. There are cute little flowerpot fairy homes, fairy doors to place in your house to allow fairies to enter and Fairy Tale stories to encourage children's imaginations. Make your child's bedroom an enchanted place with these magical toys!
My Fairy Garden: any fairy will love to live in the enchanted cottage and grow her own living garden using the grass seeds provided. This kit contains everything you need to make your fairy and her mouse friend feel at home; just add imagination and a little sprinkling of the fairy dust included.
Follow the eight-page colour illustrated activity guide to learn how to construct the enchanted fairy cottage.

Grass seeds are provided to create a beautiful living garden for your fairy and her mouse companion.

The kit comes with a shell water feature, washing line, mushroom, plastic flowers and gravel for a path.

Add more features by making your own garden furniture out of recycled materials.
Harriet (almost eight) loved this and so did the adult who sat with her to assemble the house and garden. A lovely alternative to an Easter egg and a great present at any time of the year.
PWT rating: ♥♥♥♥♥
My Fairy Garden Fairy Garden
,
My Fairy Garden Unicorn Garden
My Fairy Garden Lilypad Gardens
are available from Amazon, toy retailers, supermarkets, department stores, and homeware/garden stores.