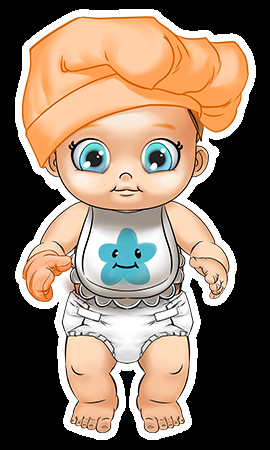 Is it a boy or is it a girl? You don't have long to wait once you unwrap your BABY Secret and fill its bath with water. Once immersed, the baby's nappy will turn pink or blue and your young collector can complete the birth certificate by naming the new arrival...
Children love collecting and these tiny dolls are pocket money priced at £2.99. There are over 50 characters to collect ranging from painter baby to cereal baby with masses to discover in between.
We were sent three and Harriet's biggest disappointment was that they were all boys! (How many parents have gone through that scenario?!) It's good to see that the packaging is the baby bath so no much waste there, and the "birth certificate" is nappy shaped.
The dolls are perfect to spark the imagination and engender creative play.
PWT rating: ♥♥♥♥♥
As a gift – or something to save up for – there are also four activity packs:
Pram Pack
Bassinet Pack
High Chair Pack
Rocking Horse Pack
which come with two exclusive babies, one surprise baby, a bath tub and three birth certificates and sell for £12.99.
BABY Secrets is available from Argos and other retailers. For more information visit BABY Secrets