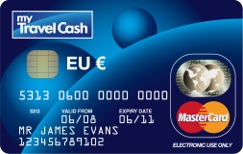 Although travelling on a European holiday means less hassle using the Euro, we still edn up paying bank charges on withdrawing money from an ATM or using a debit or credit card to pay for goods and services. The my Travel Card means that you can have peace of mind withdrawing the amount of money you need at any time without having to pay charges.
While on the Greek island of Thassos we had no problem at all using my Travel Card to withdraw money or pay restaurant or supermarket bills anywhere Mastercard® was accepted.
Here are the main advantages of using my Travel Card:
Secure your exchange rate by loading in Euros
1 per cent unlimited cashback on your purchases
No ATM fees in Europe
Accepted wherever you see the MasterCard Acceptance Mark
24/7 Customer Service support
Chip & PIN protection and Lost & Stolen assistance
Express Delivery within 1 to 3 working days (for orders under £800 there is a £5 fee)
my Travel Cash card is valid for three years.
The only problem we encountered was trying to add money while we were away and this became quite frustrating but may have had something to do with a slow internet connection. I then downloaded the my Travel Card app which worked perfectly the first time but not afterwards. Obvioulsy these teething problems may have been ironed out by now.
The next time I travel in the Euro zone I'll load more money on the card before leaving but there is a charge if you want to convert euros back to sterling.
PWT rating: ♥♥♥♥♥
To apply visit to my Travel Cash.