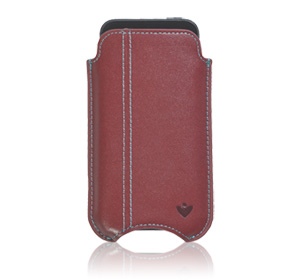 As anyone knows, smart phone and tablet screens tend to get smeared and dirty especailly when little hands get hold of them. So I was interested to try out the NueVue case and was sent one for my iPhone.
Using a unique blend of microfibers and BioCote® antimicrobial technology, NueVue cases clean the screen quickly and easily — with a simple sliding motion — and eliminate microbes as well. The anti-microbial protection NueVue provides eliminates up to 80 per cent in 15 minutes and continues working to eliminate up to 99.9 per cent of bacteria within two hours. At the same time, the phone or tablet stays secure and protected thanks to the case's anti-static and shock resistant capabilities.
The Nuevue case certainly keeps the screen looking clean and new. The only disadvantage I can see is that you have to remove the case to use the phone.
PWT rating: ♥♥♥♥♥
NueVue products
are made of the highest quality cotton twill, leather and canvas and come in a variety of stylish colours.
• The NueVue for iPhone® £34.99.
• The NueVue case for iPad® £44.99
• NueVue case for iPhone iPad Mini® £39.99