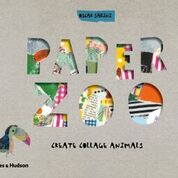 I have to confess I love collages and it's a great way for children to explore colour and shape and texture, depending on the materials you use.
Paper Zoo by Oscar Sabini is a really lovely book to share with a younger child. Almost everything you need is included: animal templates, sheets of card and patterned paper. You supply the glue and inspiration.
There are seven animals – a crocodile, elephant, monkey, toucan, hippo, lion and a bear – all racing towards the end of the book for a group photo at the end.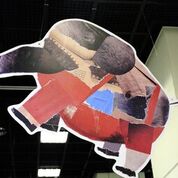 The idea is for the young artist to tear and glue pieces of paper to the card. Slip the card into the template and hey presto you have a beautiful collage. Easy peasy, lemon squeezy as Harriet says.
However you can take this a stage further (for older children adept with a pair of scissors or adult help) and once the card is in the template, draw the outline, removes and cut out the shape for using perhaps in a larger collage (as Harriet and I are making on her bedroom wall) or as decorations, gifts...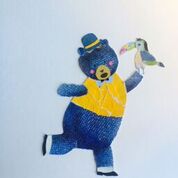 This book makes an excellent gift and will provide hours of entertainment perfect for autumn and winter afternoons.
PWT rating: ♥♥♥♥♥
Published by Thames & Hudson, Paper Zoo: Create Collage Animals
by Oscar Sabini is available from Amazon.