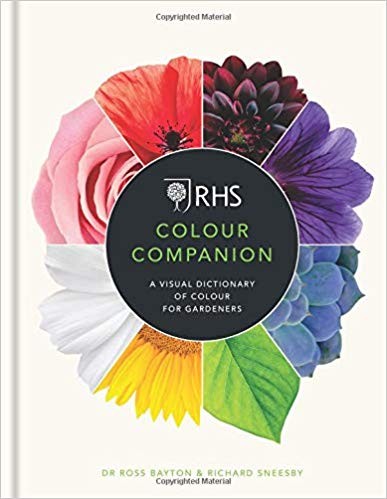 On first viewing of this gardening book, RHS Colour Companion: A Visual Dictionary of Colour for Gardeners, I wondered what insight to improve my garden does this offer to me. My style of gardening is very random – I see a plant I like, buy it and then think where can it go! A friend is completely the opposite and plans her plots into colour-coordinated oases of blooms and foliage.
Amazingly this book accommodates both types of gardener. It is visually stimulating whilst the text is very informative on a range of issues. The authors explore the science of colour as a background to understanding the natural world, its wonder and why colour is so important. I have really enjoyed browsing the pages to find different and interesting plants to look out for when out at garden centres or viewing online offers.
The excellent photographs provide additional ideas as to how blending different plants, either of the same colour range or complementary to each other, can achieve a stunning effect in the garden.
There is also a section on how to combine building materials, for example timber, within your garden to provide more interest and develop features.
I highly recommend this book to keep on the bookshelf as it truly lives up to its subtitle: A Visual Dictionary of Colour for gardeners.
PWT rating: ♥♥♥♥♥
RHS Colour Companion: A Visual Dictionary of Colour for Gardeners is published by Octopus Books and is available from Amazon and bookshops.