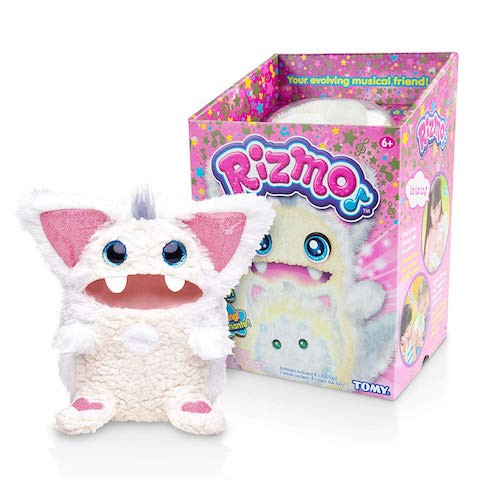 Rizmo, the ultimate transforming best friend, has been named in the Top 12 Christmas Toys at Dream Toys 2019, indicating that it will be one of the most sought-after gifts this Christmas. The first-ever ultimate transforming best friend that listens, learns, remembers and actually grows—both in play value and physical form. TOMY's decades of experience and rich industry history, and the company's track record for proven success in innovative plush and robotics, have come together in this remarkably interactive creature.
As soon as Harriet saw Rizmo she was intrigued and wanted to play straightaway but I managed to delay the treat for after school when Rizmo was out of the box before before you could say...
The important thing is to read the instructions and certainly younger children will need help with this. Harriet was tickled pink (the colour of her Rizmo) when it started to repeat what she said and the ears appeared from the "baby". Her one is still evolving to there are surprises to come.
Rizmo starts out with five play modes, including Rolling Rhythms and Record Songs, where children can sing to Rizmo and it will sing the same song back. Rock-a-Bye Rizmo mode will help put it to sleep. When Rizmo is fully evolved, there are two additional play modes to discover.
If you are buying as a Christmas present there are three colours to choose from Berry, Aqua and Snow, each of which feature a specific musical style, such as Pop Star, Hip-Hop Star, Rock Star and Electro Star. The musical theme is a surprise until Rizmo is fully evolved.
Harriet commented, "Rizmo is one of the family now."
All TOMY toys are cleverly designed to develop children's core skills whilst they play.
PWT rating: ♥♥♥♥♥
Rizmo is now available online and at retail stores i for the RSP of £59.99 but is on offer at Amazon:
Rizmo Your Evolving Musical Friend | Interactive Plush Kids Toy with Fun Games | Cute Electronic Pet for Children 6+ Year Olds, Boys & Girls, Snow
Rizmo Your Evolving Musical Friend | Interactive Plush Kids Toy with Fun Games | Cute Electronic Pet for Children 6+ Year Olds, Boys & Girls, Aqua
Rizmo Your Evolving Musical Friend | Interactive Plush Kids Toy with Fun Games | Cute Electronic Pet for Children 6+ Year Olds, Boys & Girls, Berry
Rizmo- Berry (Bizak 30692314)