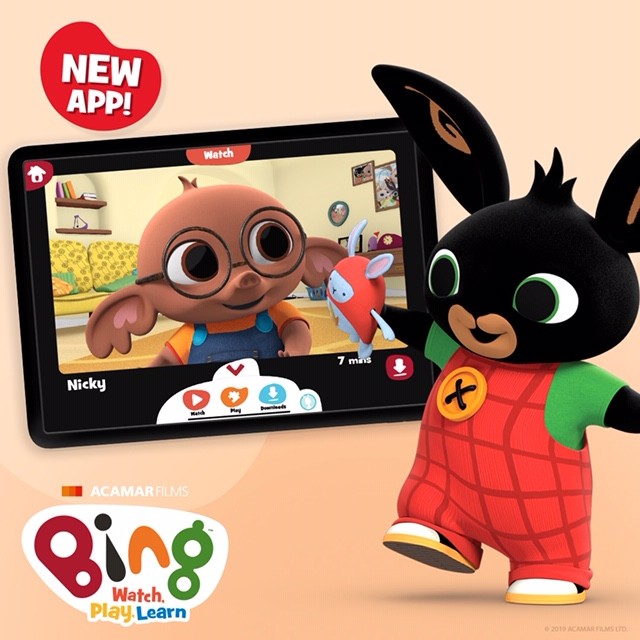 Acamar Films has announced a brand new series of the Emmy award-winning, BAFTA nominated, leading pre-school show, Bing.
Bing, Flop, Sula, Amma and Pando are joined by a range of loveable new characters – and for the first time, the show will cover Bing's birthday, Bing's Halloween celebration and Bing's Christmas. In a first for Bing, and for Acamar Films, this brand new series, never-before-seen-on-TV, has its worldwide premiere on Acamar Films' new freemium app, Bing: Watch, Play, Learn.
The new app features a safe and ad-free world of Bing content including free episodes from the new series and specially developed educational games and activities designed to encourage positive emotional development. Bing: Watch, Play, Learn launches on Apple App Store, Google Play and very soon Amazon Appstore. Bingsters and their parents can watch three brand new episodes for free.
Those wishing to enjoy additional content on the app can take advantage of a half-price "early bird" upgrade offer – just £7.49 for 12 months – ahead of a fuller version of the app (more episodes, more games, more learning!) being released at the end of October.
This new app marks the beginning of an extensive commitment to world-class, audience-centred digital content from Acamar Films.
Jenny Mowatt reviews:
The new Bing app offers Bing enthusiasts a chance to explore unseen episodes and interactive games. As a family with two Bing fans we were excited to explore the app as a distraction and learning tool on a recent trip away.
It was a bit clunky on the Kindle Fire but worked much better on our android tablet. The subscription offers access to thee additional games and a few unseen episodes of Bing, but I have to say that the free games were actually the favourites for my three year old - offering a chance to find pairs and drag different shapes on to the stacker. But unfortunately these weren't available when offline for free.
The app has great graphics and options for kids, and would certainly appeal for children aged 18 months upwards. The games more from age two, and my three year old was happy playing them on his own once initially explained to him.
We're looking forward to the further games and episodes as they are added. Bing: Watch, Play, Learn would certainly appeal to Bing fans.