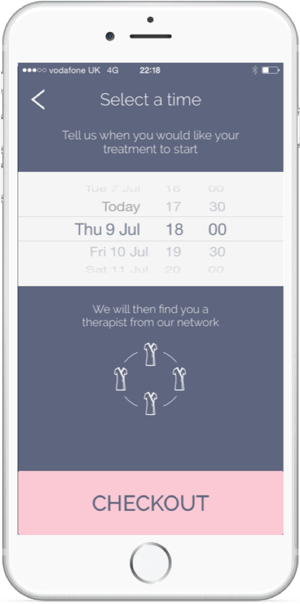 One of the things which inhibits me from going to a beauty salon is what you do afterwards. If you've just had a facial, you don't really want to put makeup on to go home. A pedicure? Can you make it home in flip-flops?
A previous attempt at a home service was having a hairdresser come to cut both Harriet's and my hair. It wasn't a great experience and it was fortunate I had a salon-type hairdryer at hand.
However when I met some of the team from Secret Spa last month, I was impressed by their commitment and professionalism.
Secret Spa is the luxury beauty app for London and surrounding counties, bringing a range of five star treatments from Swedish massages, to express-manicures to you in the comfort of your home, office or hotel. You simply download the app, choose your treatment, put in your location and time (with three hours notice) and a therapist who covers your area will accept the booking and come to you; all the same price as what you'd pay in a salon.
I was offered to try try out the service and was recommended their facial.
My appointment was booked for 6pm and Dawn arrived spot on time carrying her bag of tricks and a bed. (You do need to have a space about the size of a single bed, access to electric sockets and water.) While Dawn set up, I filled in the company questionnaire. Then she showed me the seven bea skin care products she was going to use which included a Gentle Exfoliating Cleanser, Eye Serum, Vitamin C 20% & Hydraulic Acid Serum, Collagen Complex Cream and, of course a mask.
Once on the bed, with the lights off and relaxing music playing, Dawn worked her magic. The facial was incredibly relaxing and the massages that accompanied it were marvellous, culminating in a head massage while the mask took effect.
Secret Spa is perfect for fitting beauty treatments into your busy schedule and lifestyle.
PWT rating: ♥♥♥♥♥