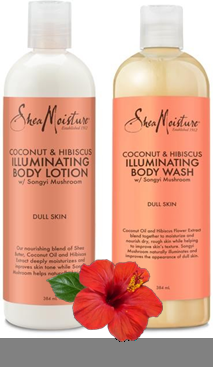 As I write this in the latter part of February with the sun shining and all the windows open, it's easy to believe spring has arrived early and with that thought comes the realisation that we may not have been caring for our skin as we should be during the winter months.
So I was happy to try out the recently launched Bath and Body collection from the award-winning US haircare brand SheaMoisture. each pampering preparation is enriched with the finest natural, certified organic and ethically sourced ingredients.
Wrapped in beautiful tubes, bottles and tubs, the range consists of six colourful collections that will look good in any bathroom and split into different skincare needs and concerns – soften and restore, dry skin, congested skin, illuminating, energizing and hydrating. The unisex ranges contain no nasties and are free from animal testing.
I tried the Coconut & Hibiscus Illuminating Body Wash (£10.99/384ml) and Illuminating Body Lotion (£10.99/384ml) which contains a nourishing blend of Shea butter, coconut oil and hibiscus extract, which helps to moisturise and improve skin tone whilst naturally illuminating. Also formulated with added Songyi Mushroom, Vitamin E, Vitamin K, Iron, and Fatty acids.
A small amount of this gently scented body wash is enough to cleanse your whole body and leaves your skin feeing silky soft. Alternatively you can add a capful to create a spa bath.
Complementing this is the body lotion. This has such a rich, creamy texture that I had trouble dispensing it from the cap and ended up removing the top so I could squeeze it out. Once again you only need a relatively small amount to cover all your body. It is quickly absorbed and improves how your skin looks.
Containers can be recycled and product lasts for 12 months although you'd want to use this on a daily basis.
PWT rating: ♥♥♥♥♥
Also available Boots stores and online at www.boots.com, www.lookfantastic.com and www.ASOS.com :
African Black Soap Collection – Soothing Severely Dry Skin
African Water Mint & Ginger Collection – Detox, Congested Dull Skin
Fruit fusion Collection – Energizing, Dry, Dull Skin
Raw Shea Butter Collection – Hydrating, Dry Skin
Virgin Coconut Collection – Soften and Restore