The Comfy®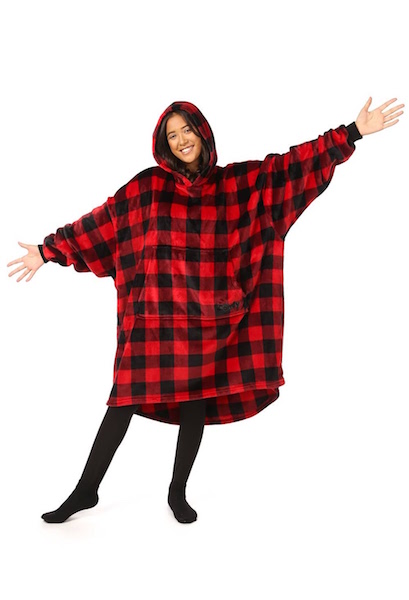 couldn't have arrived at a more opportune time – no matter how high I set the heating I still felt cold. Sitting at a desk most of the day means you get quite cold as well. There's a lovely hood to keep you snug and a lovely deep pocket for all the bits and pieces I carry around with me.
From the moment I put it on it was love at first wear. It is so comfortable and the warmth is unbelievable. As I had a decorator in, I had all the windows open and no heating on. The Comfy kept me at a perfect temperature.
Talking from my doorway to a friend at my gate, an ambulance passed (sign of the times) and the driver shouted out that he loved my top.
This is a one size fits all garment. The large, oversized comfortable design is a perfect fit for most all shapes and sizes. It comes in a range of colours and seasonal patterns and is perfect for outdoors as well: BBQ, camping trips, beach,walking the dog and visits to the park. With the pandemic and lockdown we are having to plan more of our lives in the open air and The Comfy® helps to make that more attainable. The Comfy® is also perfect for wearing when you're curled up on the sofa binge watching your favourite programmes.
Easy to wash on a cold cycle followed by a tumble dry separately on low – it comes out like new
PWT rating: ♥♥♥♥♥
Available from Amazon:
THE COMFY ORIGINAL | Oversized Microfiber & Sherpa Wearable Blanket, Seen On Shark Tank One Size Fits All