One of the first things that appealed to me about Jack Shian and the King's Chalice was the idea of a parallel world of creatures who live hidden under Edinburgh Castle, can transform themselves to infiltrate the human world and can travel at an amazing speed.
Jack, aged 12, visits his grandfather in the hidden chambers of Edinburgh Castle, having been brought up by and uncle and aunt. He needs to find out what happened to his father – and if he is still alive – and why his mother ran away with his sister and left him. There are so many unanswered questions but Jack learns that with the return of the Destiny Stone after hundreds of years the Shian's magyks are getting stronger but that an ancient chalice will make them even stronger. So Jack and his cousins determine to find the chalice and soon discover that others who want his power for their evil designs will do anything to to get it.
Jack Shian and the King's Chalice is a romping adventure full of secrets and intrigue that should appeal to girls and boys alike – the characters may be Shian but the emotions and "growing pains" of emerging into teenhood are identifiably human.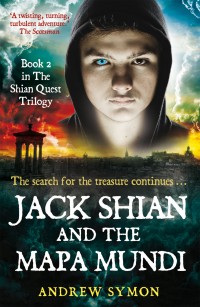 Jack Shian and the Mapa Mundi continues the quest for treasure and there is more trouble afoot.
The Kildashie – sworn enemies of the Brashat – should be allies of the Shian but something is not right and when Jack and his grandfather seek the advice of the enchantress Tamlina they find her about to die. Her last words are to seek the Mapa Mundi...
These books are well written and Andrew Symon weaves a good tale, hooking the reader from first to last chapter – and the adventure continues in Jack Shian and the Destiny Stone to be published by Black & White Publishing in August.
PWT rating: ♥♥♥♥♥
Jack Shian and the King's Chalice (Shian Quest Trilogy) (The Shian Quest Trilogy)
and Jack Shian and the Mapa Mundi (The Shian Quest Trilogy)
are available from Amazon.