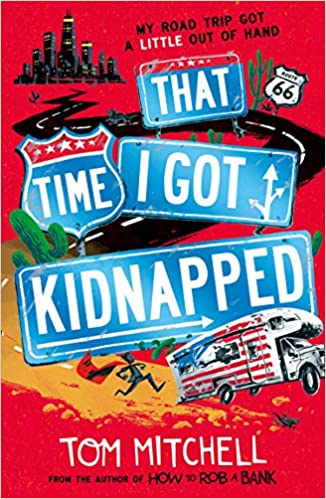 From the opening paragraphs of That Time I Got Kidnapped by Tom Mitchell the reader knows (s)he is in for a treat. Written in the first person the narrative is fast moving, witty and a perfect adventure for readers aged 11+.
Fourteen-year-old Jacob is thrilled when he wins the chance to feature in the next Marvel movie, shooting in Hollywood. But after missing his connecting flight in Chicago, he tries to complete the journey by Greyhound bus – and there he meets Jennifer.
Jennifer is an American teenager on the run with a mysterious package she's guarding with her life – and an enigmatic figure known only as 'the Cowboy' is hot on her heels . . .
Jacob soon finds himself on the road-trip of a lifetime as Jennifer's unwitting partner in crime. Will he make it to LA in time – and in one piece?
A funny, filmic, page-turning adventure: "sometimes the wrong decision's the best decision."
Funny and fast paced about self discovery and friendship. Perfect book to engage young readers.
PWT rating: ♥♥♥♥♥
That Time I Got Kidnapped
by Tom Mitchell is published by HarperCollins and is available from Amazon and bookshops.