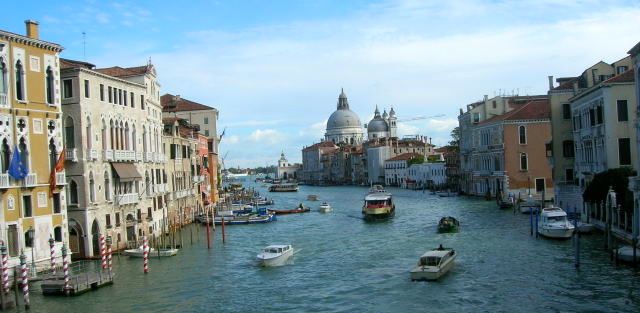 The thrill of arriving at a
holiday destination
accessible only by
boat
, really has got the
wow factor
, that really must impress even the most
sophisticated of children.
How amazing to get out of a
plane
and in less than an hour be cruising down the
Grand Canal
, lined as it is with such
historic
and beautifully flamboyant
architecture
.
There are so many things to see, that its best to
arrange an itinerary
beforehand, depending on taste. As an example the
Galleria dell Accademia
has the largest collection of Venetian paintings, while the much smaller
Peggy Guggenhim Collection,
houses more modern art, including Jackson Pollock, Picasso, Magritte, and Mondrian.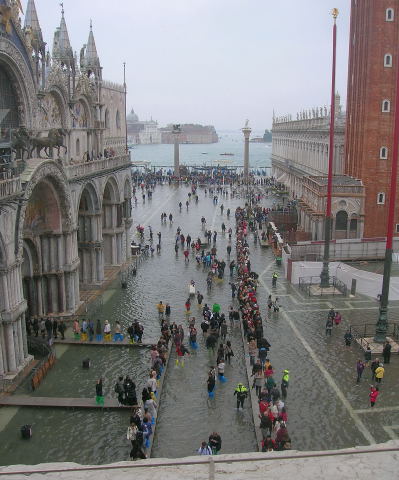 Our own starting point was the famous
Doge's Palace
in
San Marco Square,
having booked the less well known,
Secret Itineraries tour
. This tour goes
behind the scenes
of the justice system of the time, with views of the
torture room
, the prison and even the very
cell
from which
Casanova
made his spectacular escape, way back in 1755. It's
creepy
, fun and really makes
history come alive
.
One of the most
famous bridges
in the world, the iconic
Rialto
, is gorgeous but usually teeming with people. (We decided on a meeting point beforehand in case we got separated.) Built in 1180, it was the only link between the two banks of the
Grand Canal
, until the mid 1800s. On the other side is the
oldest area of the city
known for its
markets
, including fish and spices. Today, it is also famous for the many
cafés
and meeting points.
Eating in Venice
is notoriously expensive, but it doesn't have to be. Visit the back street
eateries
frequented by the
locals
and prices can be fair. Our discovery while visiting the world's
oldest ghetto
, in the
Jewish quarter,
was the famous
Gam Gam restaurant
, a popular venue, with modern versions of
classic Jewish food.
Teenagers
may get tired of too much
walking
and the alternative is the
vaporetti
(waterbus) it's a great way to get around and enjoy the view.
Day tickets
are the best value and help to avoid the queues.
On our last night we splashed out and decided to eat at the famous
La Colomba
, known for its food – and culture. The
restaurant
, which has been around since the 1940s, was a meeting point for
artists
who sometimes ate beyond their means – and paid with a
painting.
These, completely cover the walls, like wallpaper and even include a
Picasso and Chagall
!
It was a fitting ending to an
impressive few days
in a magic
city
.
Lucy Daltroff
stayed at the luxurious
Belle Vue Suites
owned by
San Marco Hotels
and situated in a refurbished palace overlooking
St Mark's Square
.