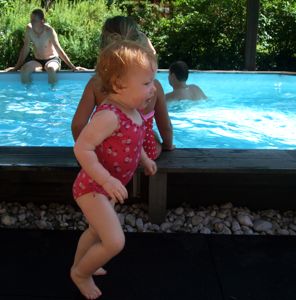 As mentioned in the first review of
Hotel Wiesenhof
, the
Entner family's
motto is "
arrive as a guest and leave as a friend
" so when I was invited to
return
with my family, Olivia and Harriet, it did indeed feel as though we were arriving as
friends
. Everyone, it seemed, had
heard about
Harriet and was
delighted
to meet her!
It is one thing to
review
a
family hotel
on one's own – even for a seasoned
travel journalist
and parent – but quite another to have your
family
with you to put everything
to the test
. In fact everything
exceeded expectations.
Having a
two year old
exploring the
family room
immediately made us aware of one
attention to detail
that was invaluable. Harriet
locked herself
in the loo, but within seconds we realised
the door
could be
unlocked
from the outside. A neat touch. The
family room
we occupied had a
terrace
rather than a
balcony
so no worries about falls and it was large enough to
play games
together there.
Our first two days were
sunny
so we made use of the "
tunnel
" to the
outdoor pool
at the next hotel which was really
child friendly
and situated near outdoor
play area
. We also used the
indoor pool
which, although the hotel was nearly full, never seemed to be
over-occupied.
Olivia made use of the
gym
every day and I had some relaxing times in the
saunas and meditation room
.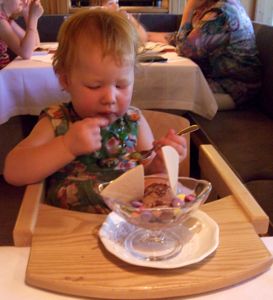 Harriet adored the
children's playroom
with the Wendy house – so much so that we had a hard time getting her to leave!
Sometimes
meals with small children
can be trying but the staff in the
restaurant at Hotel Wiesenhof
do their best to help you
relax and enjoy
the experience. Harriet was spoilt for choice with the
huge range of starter
s and she usually shared whatever we were having as a
main course
. But deserts were hers - especially
ice cream with smarties
!
There's
plenty to do
within the hotel and grounds which house the
alpacas
and lots to
explore
outside including:
Cable car to a restaurant with panoramic views
Two hour sail on Lake Achensee
Steam train ride
A visit to the Wiesenhof farm
It was interesting to note that many of the hotel's guests return time and time again. Probably because everyone is made to feel so welcome.
PWT rating: ♥♥♥♥♥
For more information on special family deals and rates visit the Hotel Wiesenhof website.