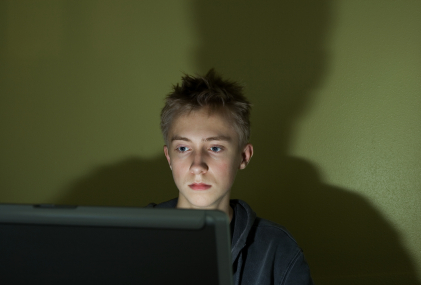 According to a new survey of parents carried out for the NSPCC, 53 per cent of parents were unaware that social media sites like Facebook require users to be over the age of 13. And shockingly one in five parents thought there were no age requirements at all. The NSPCC and O2's Net Aware guide offers advice to parents about social media.
The NSPCC is urging social media companies to make age restrictions much clearer on sign-up pages and is offering advice to families to help keep children safe online.
Social media can provide important support networks for young people. But the sites can also be a dangerous place for younger children, potentially exposing them to bullying, inappropriate content or grooming.
Calls to the NSPCC's Childline service calls show that children under the age of 13 are using social networks and are in some cases having negative experiences online. There has seen an 88 per cent increase in counselling about online bullying over the past five years, with contacts coming from children as young as seven.
Claire Lilley, NSPCC Head of Online Safety, said: "We can all do our bit to keep children safe online, and ensure their experience of social media is a positive one.
"Age restrictions need to reflect the content and conduct possible on each site and be crystal clear to parents and their younger users. And platforms need to work harder to protect children and young people, building in child safety to the design of each site.
"Parents can be proactive by having conversations with their children about online safety as soon as they start using the internet. The NSPCC's Net Aware service can give practical tips such as how to switch on parental controls, or manage privacy settings."
The Net Aware website, run in partnership with O2, offers parents useful information about each social network, including the age guidance for users.
Parents seeking face-to-face advice about how to best protect their children online can make an appointment with the NSPCC's O2 gurus in their nearest store or can call the O2 NSPCC Online Safety Helpline on 0808 800 5002. You do not need to be an O2 customer.
Nearly a third of counselling sessions for online bullying referenced gaming or social networking sites as the platform for their abuse and humiliation. In 2015/16 out of the 4,541 counselling sessions about online bullying there were 1,420 counselling sessions with young people who specifically mentioned being bullied on a gaming or social networking sites.
Childline service provides a safe, confidential place for children with no one else to turn to, whatever their worry, whenever they need help. Children can contact Childline 24 hours a day, 365 days a year on 0800 1111.
NSPCC free helpline provides adults with a place they can get advice and support, share their concerns about a child or get general information about child protection. Adults can contact the helpline 24 hours a day, 365 days a year on 0808 800 5000, or online.