publication date:
Dec 23, 2012
|
author/source:
Fiona Jack, Olivia Coates, Anne Coates
Aubrey Rosa Mosqueta Jojoba & Oatmeal Mask & Scrub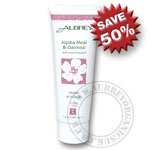 I like this face mask. I am a fair freckly-skinned prone to eczema wrong side of fifty woman. I used the Mask & Scrub prior to my shower, applying it a couple of minutes before and rinsing off in the shower, thus taking up little extra time in a busy morning schedule.
Aubrey Rosa Mosqueta Jojoba & Oatmeal Mask & Scrub comes in a tube and is easy to apply, although I would recommend shaking the tube beforehand as there was a tendency for it to separate a little otherwise. The fragrance was pleasant and not over-powering.
The Mask & Scrub rinsed away very easily, leaving my skin feeling soft, without a hint of tightness, receptive to my usual moisturiser. I would definitely consider buying this to use as a daily scrub.

PWT rating: ♥♥♥♥♥
Natural Herbal Sea Clay with Goa Herb Oil Balancing Mask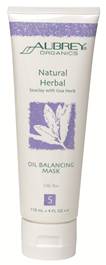 This is a pore clearing mask that helps break up oil deposits and gently exfoliates to deep cleanse and balance skin. It contains goa herb to balance skin, sea herbals (bladderwrack and laminaria) to nourish skin and kaolin clay and papaya extract to gently exfoliate.
Recently my skin has become quite oily and inflamed, probably due to the weather. The Sea Clay with Goa Herb Oil Balancing Mask doesn't dry completely when applied (or maybe I didn't leave it on for long enough), which made it a bit trickier than other masks I've used to get off.

It eft my skin feeling soft and hydrated, but I didn't feel it prevented the redness or in fact provided a thorough deep cleanse.

PWT rating: ♥♥♥♥♥
Green Tea and Green Clay Rejuvenating Mask

An invigorating antioxidant mask containing organic matcha green tea to soothe and protect skin and kaolin, green clay and red fruit acids to draw out impurities and renew skin, this mask's fragrance was immediately uplifting.
However is was very difficult to actually squeeze out of the tube and once out, the thickness made it diffficult to apply easily. This is probably due to the nature of the clay but would be easier to use if in a pot rather than a tube.
That said, my skin felt good after use!
PWT rating: ♥♥♥♥♥
Aubrey Organics are available online and some currently have a 50 per cent off discount.