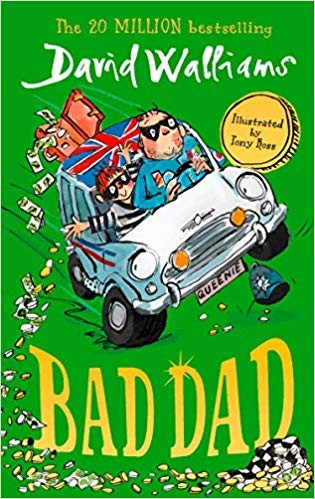 "Dads comes in all shapes and sizes. There are fat ones and thin one, silly ones and serious ones, loud ones and quiet ones. And there are good dads and bad dads...
"Frank thinks that his dad, race car driver Gilbert, is the best dad ever. But when Gilbert gets in trouble with crime boss Mr Big, he needs Frank's help to get out of it - and soon father and son are on a rip-roaring race adventure to break a man into prison!"
The arrival of a David Walliam's book for reviewin our household is greeted with utter delight by Harriet. It took her a while to read the 422 pages of Bad Dad but each one was savoured to the full. Harriet adored the characters and the scrapes they get into. Aunt Flip became a firm favourite and it was lovely to see Raj included yet again.
Walliams certainly knows how to engage and enrapture young independent readers (and adults as well!) and the narrative is beautifully enhanced by Tony Ross's perfectly matched illustrations.
Bad Dad doesn't shy away from serious subjects – early on Mum leaves Gilbert and Frank – but they are told sensitively and in a non-threatening way.
Highly recommended.
PWT rating: ♥♥♥♥♥
Bad Dad: Laugh-out-loud funny new children's book by bestselling author David Walliams
, published by HarperCollins Children's Books, is available from Amazon and bookshops.