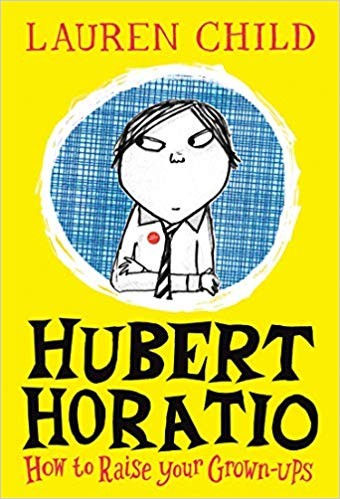 Last year award-winning Lauren Child was named Waterstone's Children's Laureate for her passion and commitment to children's literature. The creator of Clarice Bean and Charlie and Lola, now presents us with Hubert Horatio How to Raise your Grown-ups.
Hubert Horatio Bobton-Trent is a very responsible child – he has had to be as his stupendously rich parents who loved to spend money and party are very definitely not responsible. They forget do do some things, and are so involved with their own lives they drop Hubert Horatio off at the pet parlour while leaving their pooch at the barber's for a short back and sides.They get everything wrong in terms of parenting* but fortunately Hubert Horatio is there to save the day and guide them through the complexities of having a son.
The stories are rib-ticklingly good and are superbly illustrated throughout. Younger children will love hearing Hubert Horatio How to Raise your Grown-ups being read to them and older readers will delight in the words and illustrations.
*Or perhaps they don't as they have created such a perfect son!
This book makes an ideal present and the stories are great for inspiring discussions between children and the adults they are trying to raise.
PWT rating: ♥♥♥♥♥
Published by HarperCollins, Hubert Horatio: How to Raise Your Grown-Ups
by Lauren Child is available on Amazon, hardback, ebook and audible.