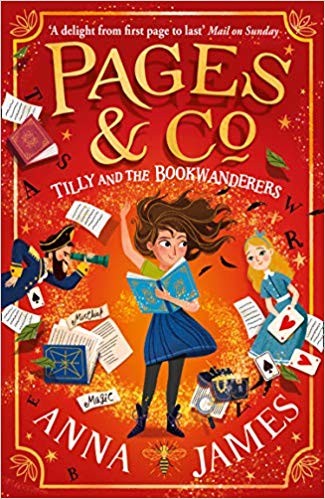 Harriet's face lit up when she saw the cover of Pages & Co Tilly and the Book Wanderers by Anna James and when I explained the premise of "bookwanderers" she was eager to read it.
Tilly lives with her grandparents in and above their bookshop Pages & Co. Her father died and her mother has been missing since soon after her birth. When the novel begins at the beginning of the autumn half-term, Tilly is feeling dramatically out of sorts. The friends she used to hang out with have new interests like netball and she feels left out.
But so does someone else – Oskar whose mother runs the local café. His father live sin Paris and has remarried so Oskar's not paying his usual holiday visit. He has dyslexia and needs help choosing books and that's a task Tilly loves. A friendship develops just as Tilly discovers characters from her favourite books appearing in real life... and so a whole raft of adventures lies ahead with Tilly determined to find out what happened to her parents.
The illustrations by Paola Escobar are a perfect fit as is the fun typography used to great effect throughout. The jokes about fictional characters and being lost in a good and bad book plus the problem of "plot holes" certainly appealed to me.
This is a delightful book, full of magic and a little bit scary. It's beautifully written. Anna James skilfully interweaves themes of friendship, different types of family, being and looking unusual with mystery. producing a fabulous gem of a book which is totally captivating.
A perfect read for the holidays.
PWT rating: ♥♥♥♥♥
Pages & Co.: Tilly and the Bookwanderers (Pages & Co., Book 1)
is published by HarperCollins Children's Books and is available from Amazon and bookshops.