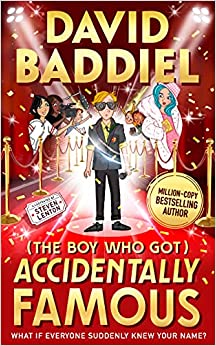 (The Boy Who Got) Accidentally Famous by David Baddiel
Seems to be a Christmas tradition at Parenting Without Tears to review a David Baddiel book. Last year it was Future Friend and the year before The Taylor Turbo Chaser. This one is rather different as it doesn't involve magic.
Billy Smith is as ordinary as his name and nothing extraordinary has ever happened to him until a documentary crew arrive at his school to film the new TV series School Daze and everything changes for him and his friends Bo and Rinor. A remix of a boring class presentation goes viral and suddenly everyone know Billy's name and life becomes a whirlwind of red carpets, TV shows, albums and...
Obviously fame comes with a price tag brilliantly depicted by illustrator Steven Lenton. Laugh out loud moments will keep readers entertained as they maybe think twice about fame and fortune.
The Boy Who Got Accidentally Famous: the new Bestselling Blockbuster from Baddiel for 2021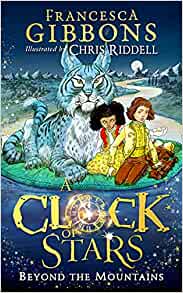 A Clock of Stars Beyond the Mountains by Francesca Gibbons
Last year we reviewed the first book in this amazing series: The Shadow Moth. Once again the next one is illustrated by Chris Riddell, continuing the story of sisters Imogen and Marie who return through the door in the tree to a whole new Yaroslav in which Miro is hating being King and Anneshka hates not being queen so much so that when she hears a prophecy that she will rule the Greatest Kingdom, she seizes Marie in the belief that she is key to fulfilling her desire. With Imogen and Miro in hot pursuit danger stalks all of them.
Beautifully written with themes of friendship and doing what's right.
Beyond the Mountains: Book 2 (A Clock of Stars)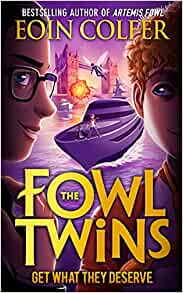 The Fowl Twins Get What They Deserve by Eoin Colfer
Twenty years after Eoin Colfer's Artemis Fowl series was first published, the intrepid twins are back in a dangerously fast-paced adventure where some of their past exploits threaten their very existence. Clones, fairy magic and criminal masterminds come together in this ultimate and ridiculous showdown between the twins and their worst enemy with plenty of slapstick humour and unique storytelling.
This book can be read as a standalone by new readers and a welcome return to the Fowl Universe for fans of the series.
Get What They Deserve: Book 3 (The Fowl Twins)