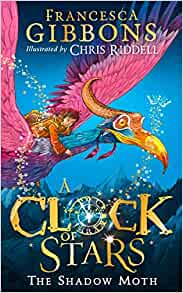 The Shadow Moth is the first book in the A Clock of Stars trilogy by Francesca Gibbons and illustrated Chris Riddell and middle grade readers are in for a treat.
The preface sets the scene: a moth is given a challenge:
"Fly with courage and speed and the will of the stars. If you just do one thing, help return what is ours."
And then we're off into a fabulous fantasy involving Imogen and Marie – and the moth.
Imogen should be nice to her little sister Marie. She should be nice to her mum's boyfriend too. And she certainly shouldn't follow a strange silver moth through a door in a tree. But then… who does what they're told?
Followed by Marie, Imogen finds herself falling into a magical kingdom where the two sisters are swept up in a thrilling race against time – helped by the spoiled prince of the kingdom, a dancing bear, a very grumpy hunter… and even the stars above them.
A Clock of Stars is a timeless fantasy, beautifully written. The narrative pulls you in from the very first lines and, for me, took my back to my own childhood of plays written by and starring yours truly with a younger sister in the supporting roles (and she went on to be an actress!).
Books are the perfect way to escape the current problems we are faced with and this one will make readers laugh as well as gasp at the trilling race against time.
Highly recommended and a perfect gift.
PWT rating: ♥♥♥♥♥
Published by HarperCollins Children's Books A Clock of Stars: The Shadow Moth
by Francesca Gibbons and illustrated by Chris Riddell is available from Amazon and bookshops.