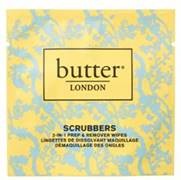 In case the dreaded happens and your nail varnish chips or you wake up with half painted nails and no time to fix them - keep a butter LONDON Nail Scrubber™ in your handbag.
These handy essentials come individually wrapped and one wipe removes lacquer from all ten nails so is perfect to quickly wipe away and get rid of the chip. The durable wipe does not fray or tear either so will ensure all nails are covered.
Plus there is the added benefit that the wipes prep your nails for the next application of varnish.
I found these do exactly what they "say on the tin" and one wipe completely removed all trace of varnish on both hands, leaving my nails feeling clean and cared for.
PWT rating: ♥♥♥♥♥
butter LONDON Nail Scrubbers Prep and Remover Wipes
come in packs of ten (£10) and are available from Amazon and Feel Unique.