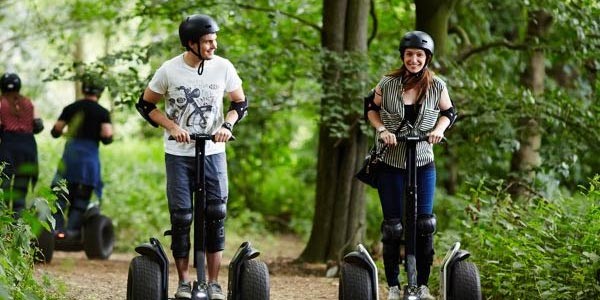 Whether it's Christmas, birthdays or special occasions, some people are really difficult to find presents for. Giving an experience rather than something that just adds to the accumulation of vases, ornaments, toiletries or whatever, seems an ideal way to solve the problem and Buyagift has the perfect range to choose from.
Buyagift has a range of festive gift ideas that ensure shopping is stress free. With over 4500 gifts to choose from, there is something for everyone.
For people who like to explore London's delights there are six experiences to choose from with prices ranges from a family visit to Kew Gardens (£37) to Crystal Maze LIVE Experience with Cocktails for Two in London (£120).
There are inspiring ideas for those who like to cook and and those who love a night out. Cars their thing? Some great choices here too.
If you're unsure of what to buy, the Smartbox by Buyagift range is the perfect solution, valid for two years and offering lots of options and locations in one box...give the gift of choice!
Happy Christmas - Smartbox by Buyagift - £49.99
The choice of thousands of relaxing, exciting and indulgent gift experiences at locations across the UK.
Some experiences are for one person, while others, like the dining experiences and afternoon teas are for two to enjoy together. Adrenaline-fuelled adventures on offer include scuba diving, zorbing, indoor skydiving and ziplining, while the more relaxing options include spa days, pampering treatments and chocolate/wine tasting events.
Fun Together - Smartbox by Buyagift - £39.99
A huge range of experiences, locations all over the UK: pampering treatments and spa days, speed around the Segway track, relish the tantalising treats of an afternoon tea or indulge in a three course meal accompanied by wine, a British Airways i360 flight or visit the iconic ArcelorMittal Orbit at the London 2012 Olympic Stadium.
Relaxation for Two - Smartbox by Buyagift - £59.99
The best of our spa and pampering experiences for two to create the nest selection of relaxing and rejuvenating treats that are sure to have you looking and feeling your best.
Awesome Adventures - Smartbox by Buyagift - £99.99
from the thrill of getting behind the wheel of a supercar to feeling your stomach drop as you take off in a microlight, relishing
the wind in your hair as you jump aboard a 60ft racing yacht most of these heart pounding experiences are far too good to share, but you'll find a few hidden gems that are specifically designed for two.
Circuits and Driving Thrills - Smartbox by Buyagift - £99.99
If you know someone who revels in the exhilarating feeling of slamming their foot on the accelerator and hearing the ear blasting roar of a powerful engine then this is perfect gift. A spectacular selection of over 400 phenomenal Driving, Passenger Ride and Off-Road experiences.
Gourmet Dining - Smartbox by Buyagift - £89.99
There is something for every taste with this wonderful treat so you can enjoy a dining experience that is perfect for you from an award-winning restaurant in the centre of a bustling city, to the peace and quiet at a stunning country manor or a grand hotel.
PWT rating: ♥♥♥♥♥
Gifts are easy to access online and an evoucher gains the recipient the experience plus if you sign up to their newsletter you'll receive discount offers.
For more information and the purchase visit Buyagift.